Press Release
March on Mayor to Demand Action to Keep Providence Hospital Open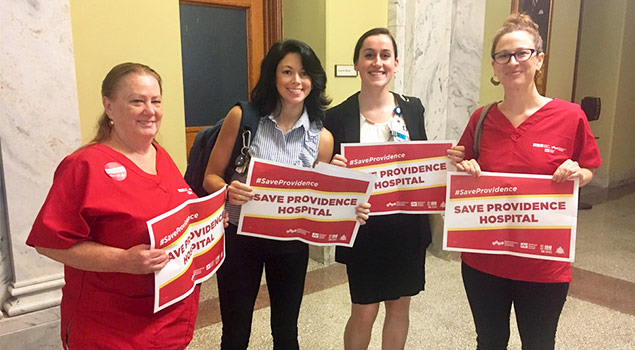 Public Hearing on Impact of Proposed Closure on D.C.'s Emergency Health Care System
Registered nurses, and caregivers will join with faith and community leaders to deliver thousands of petitions to Mayor Muriel Bowser demanding she do all in her power to keep Providence Hospital open as a fully functioning hospital with acute-care services.
Following the delivery of the petitions, the Committee on Health will hold a public meeting on the Department of Health's role in approving or disapproving Ascension's proposed closure of Providence Hospital and what impact such a closure would have on D.C.'s emergency health care system.
WHAT: Delivery of Petitions and Public Meeting on Providence Hospital's Proposed Closure
WHEN: Friday, November 2 – 9:00 a.m.
WHERE: Wilson Building Room 412, 1350 Pennsylvania Avenue, N.W., D.C., 20004
On October 16, D.C. Council members voted unanimously to adopt a bill requiring any private acute-care hospital in D.C., such as Providence, to give notice to the State Health Planning and Development Agency (SHPDA) at least six months prior to any proposed closing and to get approval from SHPDA before closing those services. Mayor Muriel Bowser has not yet signed the legislation.
"Nurses are outraged that Ascension is threatening to close our hospital. We demand that Mayor Bowser take action to save Providence," said Elissa Curry, a registered nurse who has worked at Providence for 7 years. "Mayor Bowser has been given all the tools she needs by the unanimous vote of the D.C. Council. It is time for her to take action."
"I want to thank the City Council for doing the right thing, and now the citizens of D.C. are looking to Mayor Bowser to step up and protect her constituents," said Wanda Shelton-Martin, executive director, National Union of Hospital and Health Care Employees 1199 DC AFSCME.
Ascension, the nation's largest nonprofit Catholic health system, which posted $1.6 billion in profits in the first three quarters of this year, announced it intends to close Providence by the end of December. The hospital serves many low-income, poor, and elderly people with more than 80 percent of its patients receiving Medicaid or Medicare.
"Our Catholic tradition is clear that standing with marginalized and disenfranchised people is not an option but a mandate. Accompanying people who have a right to adequate and quality health care is not a privilege, it is a basic human right," said Sr. Ann-Louise Nadeau, of Pax Christi USA. "We know and understand that circumstances dictate that some hard decisions need to be made. However, making decisions based on bottom lines and profit margins is counter Gospel and growing a Catholic corporation on the backs of the people we are committed to serving is inacceptable."