Press Release
March and Rally for the Healthy California Act SB562, Sunday 3/26 in Downtown Los Angeles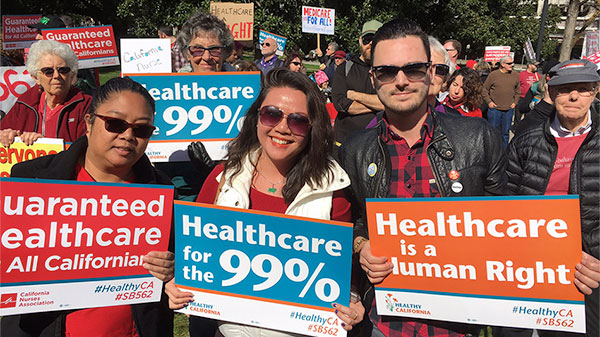 Healthcare is a Human Right!
Advocates including nurses, seniors, healthcare providers, students and immigrants, plan a march and rally in support of the Healthy California Act, SB 562, a bill that guarantees healthcare to all Californians by establishing a Medicare for all-type system, on March 26th in downtown Los Angeles.
Sen. Ricardo Lara (D-Bell Gardens), who introduced SB 562 last February with Senator Toni Atkins (D-San Diego), will speak at the rally, as well as representatives from organizations campaigning for the bill.
What: Healthcare is a Human Right March & Rally to Support the Healthy California Act #SB562
When: Sunday, March 26, 2017 - 11 a.m. - 2 p.m.
Where: 11 a.m. Assemble Pershing Square, 532 S. Olive St.
March then rally at City Hall until 2 p.m.
The primary sponsors for The Healthy California Act, SB 562 are the California Nurses Association/National Nurses United (CNA/NNU) and the Healthy California Campaign, comprised of organizations representing over four million Californians.  The bill declares that it is "the intent of the Legislature to enact legislation that would establish a comprehensive universal single-payer health coverage program and a healthcare cost control system for the benefit of all residents of the state."
The California Senate Health Committee is expected to hold the first hearing on SB 562 in April.
"As nurses we stand with our patients, with our elders, family members and neighbors, and all those who say no to the Republicans' disastrous health care proposals. We must defend the protections and gains that have been made, and at the same time, move forward to a system that truly guarantees quality care to everyone regardless of their ability to pay," said Deborah Burger, RN and Co-President of California Nurses Association/National Nurses United. "Healthcare is a human right and California is ready to show how that right can be fully realized with a Medicare for all system. With SB 562 we can expand care to all and save billions of dollars at the same time."
"The Healthy California Act gives us much needed hope, in times of despair," said Sandra Rossato, Executive Director of Clinica Monseñor Oscar Romero. "Our patients, whether documented or undocumented, are part of the economic fiber of this state and deserve equal access to healthcare."
"Seniors are the biggest users of medical care in the country. We seniors get it. We know Medicare works," said Myron Wollin a member of the California Alliance for Retired Americans. "The Healthy California Act 562, will improve upon Medicare. We also want what's best for our children and grandchildren. We have had enough of the Insurance Industry making a profit off of our health."
"As an oncologist I have seen far too many patients go bankrupt due to their illness, far too many patients who present with late-stage cancer because they could not get access to preventative screenings or early care," said Dr. Paul Song, Physicians for a National Health Program-California. "The ACA did a tremendous amount of good but we still have a grossly immoral and unjust healthcare system. With SB 562 we will create a system that puts patients before profits and covers everyone with the same dignity and level of care."
The march and the bill are co-sponsored by numerous organizations including Americans for Democratic Action - Southern California, California Nurses Association, California Alliance of Retired Americans, California Partnership, Campaign for a Healthy California, Clinica Monsenor Oscar A. Romero, Communities for a Better Environment, Consumer Federation of California, Courage Campaign, Health Care for All - California, J. Glynn & Associates, Labor United for Universal Healthcare, National Union of Healthcare Workers, Our Revolution, Physicians for National Health Program - CA, Progressive Democrats of America, Single Payer Now, UPTE-CWA 9119, and United Union of Roofers, Waterproofers & Allied Workers - Local 36.