Press Release
Maine Med nurses overwhelmingly vote "Yes!" to keep their union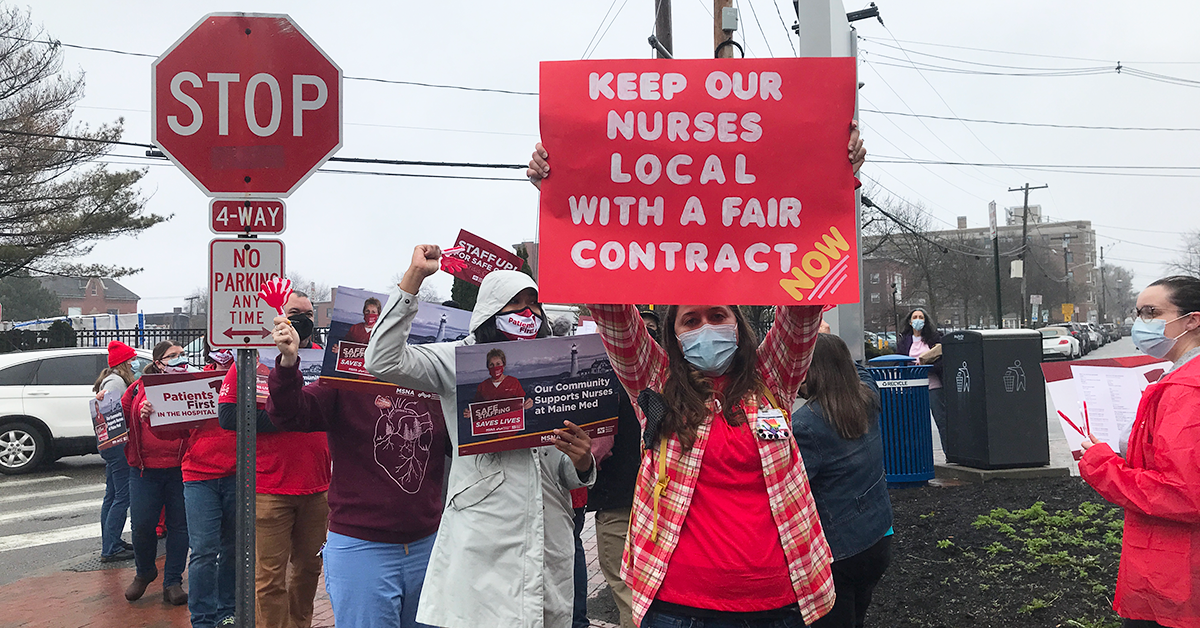 RNs voted to support unionization by a larger majority than their first union vote in 2021
Once again, Maine Medical Center nurses in Portland have voted to support unionization, announced Maine State Nurses Association (MSNA) today. In the union vote held Aug. 17 and Aug. 18, nurses voted by an even larger majority for their union than they did the first time, in April 2021. This week's vote favored the pro-union nurses 74 percent to 26 percent (1,108 to 387 votes), far more than a two-to-one margin. The RNs won their first union vote by a margin of 14 percent.
Maine Med nurses say they are excited to affirm their union support and get back to the bargaining table.
"We have been winning important improvements at the bargaining table over the past year," said Jonica Frank, an RN in the operating room and member of the union's bargaining team. "Nurses across the hospital are excited about everything we have won so far."
"We have already negotiated historic improvements in pay, in working conditions, and on patient safety issues," Frank continued. "A 'no' vote in this election would have meant that all these things could be taken away from us. Once again in this election, we have spoken. And we are not going back!"
Mary Kate O'Sullivan, RN from the medical-surgical unit and also a bargaining team member, explained some of the forces at play in this election. "The National Right to Work Legal Defense Foundation is a right-wing, out-of-state organization that goes around trying to get workers to decertify their unions," said O'Sullivan. "They thought because we were a new union, they could manipulate Maine Med nurses and overturn our 2021 election. But we just showed them the door. The so-called 'Right to Work Foundation' is not welcome at Maine Med, and it's not welcome in Maine."
Nurses expect to finish bargaining their first contract with Maine Med in the next several weeks.
"We are on a winning streak!" said Lucy Dawson, an RN in the emergency department and a member of the union bargaining team. "We have now won two elections. Our historic first contract is next. We are going to keep building our union and its power to benefit our patients, our community, nurses at Maine Med, and across the state of Maine."