Press Release
Los Angeles Kaiser nurses to hold a two-day strike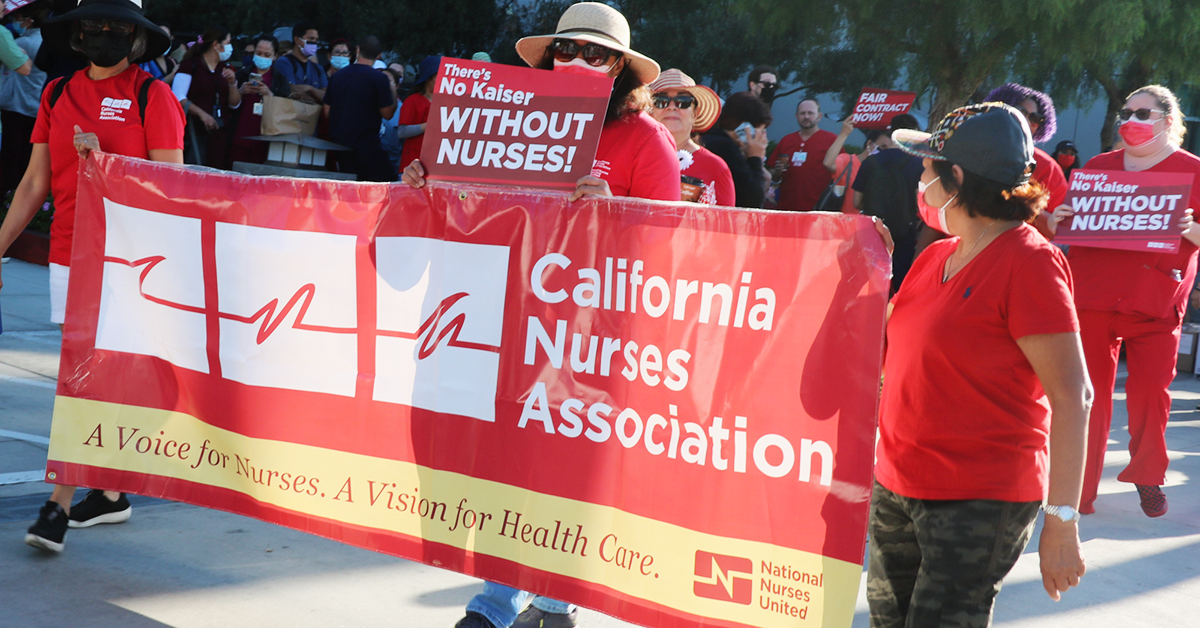 Union nurses at Kaiser Permanente Los Angeles Medical Center to strike on Nov. 21 and 22
Registered nurses at Kaiser Permanente Los Angeles Medical Center (LAMC) will hold a two-day strike on Monday, Nov. 21 and Tuesday, Nov. 22, to demand that the administration address their ongoing concerns about nurse recruitment and patient assignments, announced California Nurses Association/National Nurses United (CNA/NNU) today. CNA/NNU represents 1,200 nurses at Kaiser LAMC.
This 10-days' notice of the LAMC nurses strike follows a nearly unanimous strike authorization vote earlier this month. Nurses always give at least 10 days of advance notice to the hospital to allow for alternative plans to be made for patient care. The LA nurses held an informational picket on Sept. 1, 2022.
The Kaiser LAMC registered nurses have been in negotiations for a new contract since September 2021 with little to no movement on key issues.
Kaiser LAMC RNs urge management to invest in nursing staff and agree to a contract that addresses:
Recruitment of nurses to replace those who have left during the pandemic.
Safe floating practices to ensure that nurses are only assigned to work in units where they have established expertise or competency. Floating is a management practice where nurses are reassigned to units of the hospital where they do not normally work.
Reasonable schedules for home health nurses to ensure they have enough time to see their patients.
"Throughout the pandemic, Kaiser has degraded working conditions and standards," said Tinny Abogado, RN in the step-down unit at Kaiser Permanente LAMC. "Kaiser wants to treat nurses as interchangeable, which is dangerous for us and our patients."
Who:

     Nurses at Kaiser Los Angeles Medical Center

What:

    LAMC nurses to hold two-day strike

When:

   Monday, Nov. 21, 7 a.m. until Wednesday, Nov. 23, 6:59 a.m., picketing daily from 7 a.m. to 5 p.m.

Where:

  Los Angeles Medical Center, 4867 Sunset Blvd., Los Angeles, CA 90027
"We've been asked to do more with less throughout the pandemic," said Bryan Telfort, RN in the intensive care unit at Kaiser Permanente LAMC. "We need on-the-job protections requiring minimum qualifications and competencies for the unit. Anything less puts patient safety at risk."
More than 21,000 nurses at 21 Northern California Kaiser facilities will hold a two-day strike on Nov. 21 and 22.
California Nurses Association represents more than 22,000 nurses at 22 Kaiser facilities.
###
---
The California Nurses Association/National Nurses United is the largest and fastest-growing union and professional association of registered nurses in the nation with 100,000 members in more than 200 facilities throughout California and nearly 225,000 RNs nationwide.