Press Release
Los Angeles Kaiser nurses strike averted as RNs reach a tentative agreement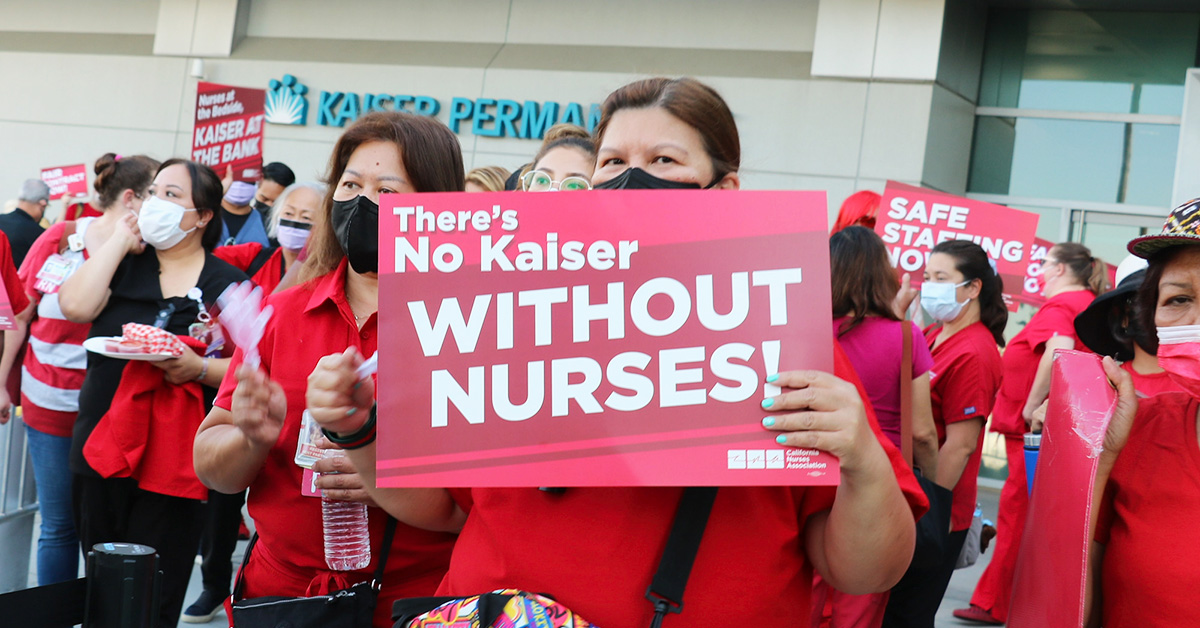 1,000 union nurses at Kaiser Permanente Los Angeles Medical Center had been set to strike on Nov. 21 and 22
Registered nurses at Kaiser Permanente Los Angeles Medical Center (LAMC) have reached a tentative agreement today, averting a two-day strike that was set to begin on Monday, Nov. 21, announced California Nurses Association/National Nurses United (CNA/NNU) today. CNA/NNU represents 1,000 nurses at Kaiser Permanente LAMC.
The LA nurses held a one-day strike for patient safety on June 23, 2022 and an informational picket on Sept. 1, 2022.
The Kaiser Permanente LAMC registered nurses had been in negotiations for a new contract for 18 months. They will vote to ratify the new four-year agreement next Tuesday, Nov. 22.
"With this new agreement, we can recruit and retain nurses and give our patients the care they deserve," said Tinny Abogado, RN in the step-down unit at Kaiser Permanente LAMC. "We also won health and safety protections for nurses and patients, which is especially important because the pandemic is not over. This contract also includes provisions that address workplace violence prevention, which is a deep concern for nurses."
Highlights of the contract include:
Health and safety provisions to ensure nurses get the highest level of personal protective equipment, including the requirement to maintain a three-month stockpile of PPE, screening for infectious disease, and having the same PPE when caring for patients who are confirmed or suspected of having Covid.
Comprehensive workplace violence prevention provisions, including expanding workplace violence prevention plans; an investigation process for incidents of workplace violence, and trauma counseling for nurses.
Investment in education: Increased tuition reimbursement for education so nurses can continue expanding their knowledge and skills.
Economic gains and health benefit provisions to help retain and recruit experienced nurses, including no takeaways for pensions or retiree health.
Equity and inclusion provisions, including agreement to address systemic racism within the health care system, demographic reporting to CNA, and a commitment to a workplace free from racism and discrimination.
Patients first language, including agreement that health care is a human right, and that we must end racial and ethnic disparities in health care outcomes, promote the delivery of culturally competent care, and expand the diversity of our health care workforce.
Stronger ability to organize for improved patient care by gaining an increase to the amount of paid time elected RN leaders can spend addressing systemic nursing problems.
Registered nurses and nurse practitioners at 21 Kaiser facilities in Northern California also reached a tentative agreement today, and will vote to ratify their contracts over the next few weeks.
California Nurses Association represents more than 22,000 nurses at 22 Kaiser facilities.
---
The California Nurses Association/National Nurses United is the largest and fastest-growing union and professional association of registered nurses in the nation with 100,000 members in more than 200 facilities throughout California and nearly 225,000 RNs nationwide.