Press Release
Landslide Victory for Nurses at UChicago Medicine Ingalls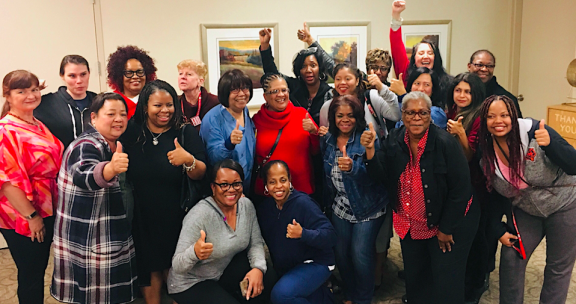 72% Vote to Affiliate with National Nurses Organizing Committee/National Nurses United
Registered nurses at UChicago Medicine Ingalls in Harvey, Illinois, a south suburb of Chicago, have voted by a landslide to join National Nurses Organizing Committee/ National Nurses United (NNOC/NNU).
Nurses voted 276-109, a margin of 72%, for NNOC/NNU to represent them in a secret ballot election conducted Oct. 2 and 3, by the National Labor Relations Board (NLRB).
"Nurses at Ingalls are so excited to have won a seat at the table! We are ready to begin advocating to improve standards for our patients," said Cathy Vaughn, an RN in the Special Care Nursery. "This victory means that decisions about patient care are made at the bedside, not in the boardroom."
"We are the ones at the bedside taking care of patients at Ingalls and now that we have a voice as nurses represented by NNOC/NNU, we won't be shut out when it comes to making decisions about patient care," said Sylviette Young, RN, Ortho.
The next step for the RNs at UChicago Medicine Ingalls is to elect a team of their colleagues to represent them in talks for their first collective bargaining agreement with hospital management.
In the run-up to the successful union vote nurses expressed the desire for a stronger collective voice in decisions that affect nursing practice and patient care issues such as rectifying the hospital's sub-standard nurse-to-patient ratios. The nurses are also seeking guaranteed paid meals and breaks with a relief RN to provide patient coverage, fair pay including transparent and guaranteed raises for everyone, improved health benefits, an end to mandatory overtime and unsafe "floating," that is, the assignment of nurses to units without adequate preparation. All these steps will enhance retention and recruitment of RNs and guarantee quality patient care, say nurses.