Press Release
Labor Board Judge Convicts Fallbrook for Violating Law, Barstow Also Indicted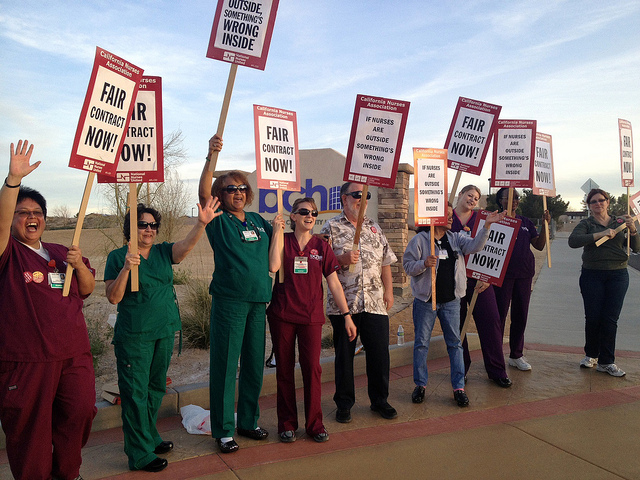 Labor Board Judge Convicts Fallbrook for Violating Law, Barstow Also Indicted,
NLRB Prepares to Ask Federal Court to Order both Hospitals to Bargain with RNs
 
Two Southern California hospitals that are part of one of the nation's largest for-profit hospital chains, Tennessee-based Community Health Systems, are facing major sanctions from the federal government for significant abuses of the democratic rights of their registered nurses.
 
In a scathing decision issued late last week, a federal administrative law judge has asked the federal labor board to order Fallbrook Hospital in northern San Diego County to end illegal evasive tactics and return to contract negotiations with its registered nurses.  
 
The Board will go to federal court June 5 in San Diego to request a rare federal injunction to force Fallbrook to comply with federal labor law. The Board filed its injunction proceedings on the same day National Labor Relations Board Administrative Law Judge Eleanor Laws issued her decision.
 
NLRB officials will hold a hearing on similar allegations at Barstow that is set to begin June 17 in Barstow, CA. The Board is expected to file in federal court in Los Angeles this week for a federal injunction to also force Barstow Hospital to comply with federal labor law.

NLRB decisions are also expected against CHS hospitals in Ohio and West Virginia where the employer has carried out parallel serious violations of federal labor law in denying rights to RNs represented by NNU affiliates in those states.

Overall, says CNA/NNU Co-president Cokie Giles, RN, "this dramatic decision and the wanton violation of the nurses' basic democratic rights, and their fight for improved patient care, show a disgraceful pattern of abuse by a large corporate healthcare system. This ruling should send a clear signal that CHS needs to end its lawbreaking practices at once."

Fallbrook RNs voted last May to join the California Nurses Association/National Nurses United. After initial meetings to discuss a collective bargaining contract, hospital officials walked away from talks citing a number of flimsy pretexts dismissed by Judge Laws in ruling on the charges brought by CNA.

Judge Blasts Fallbrook Hospital for 'basic intransigence,' 'obstinate' and 'pugnacious' behavior

In tough language throughout the 24-page decision, Judge Laws said that Fallbrook engaged in a variety of "avoidance tactics (that) changed over time," and showed "basic intransigence." She characterized the hospital's bargaining agent as "obstinate and pugnacious."

The "totality of the (employer's) conduct," the judge ruled, indicate the hospital "operated with a closed mind and put up a series of roadblocks designed to thwart and delay bargaining."

As part of the decision, Judge Laws dismissed the hospital's excuse for failure to bargain because of the RNs' use of CNA forms to document and report to the hospital unsafe patient assignments. She also said the hospital had violated the law by failure to bargain with the union over the firings of a few RNs who CNA asserts were deliberately targeted by the hospital for their advocacy for patients and the union.

All of the infractions violate a fundamental premise of the National Labor Relations Act that obligates the parties to "confer in good faith with respect to wages, hours, and other terms and conditions of employment," Judge Laws noted.

To remedy these violations, the ALJ recommended that the Board order the Employer to:
Bargain with the union in good faith over terms and conditions of work
Bargain with the union over the termination of two fired RNs who stood up for patients
Stop interfering with RNs for exercising their rights under the NLRA
Furnish information requested by the union
Post a notice explaining that the employer was found to have violated federal labor law and describing how it will comply with the law in the future
 
The NLRB is asking the federal district court to issue a seldom seen "Section 10(j)" injunction against Fallbrook to force it to comply with federal labor law or face serious penalties. The hearing on the injunction request is on June 5 at 1:30 p.m. in Courtroom 2D in the San Diego U.S. District Court, 221 West Broadway.