Press Release
Labor Board Finds Merit to Charges Johns Hopkins Violated Federal Law in Restricting Rights of RNs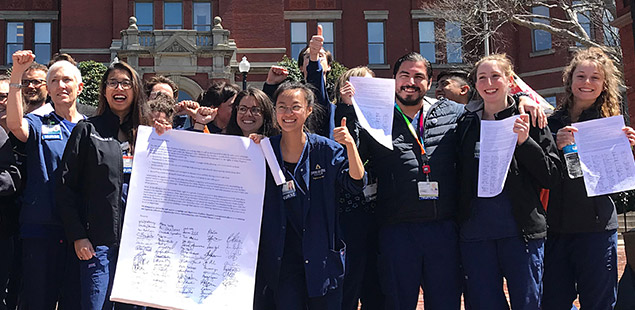 Press Conference Wednesday with Nurses, Community Member
The National Labor Relations Board (NLRB) has determined there is merit to charges that Johns Hopkins Hospital in Baltimore is violating federal labor law in restricting the rights of its registered nurses who are seeking union representation.
Johns Hopkins RNs and community supporters will hold a press conference Wednesday to discuss the findings and their efforts to protect patients and improve patient care and other standards by joining the National Nurses Organizing Committee (NNOC), an affiliate of National Nurses United (NNU).
What: Press briefing on charges of Hopkins violations of federal labor law
When: Wednesday, October 31, 11 a.m.
Where: Outside Johns Hopkins Hospital, 1800 Orleans St. (in front of hospital sign)
In response to charges filed by NNOC, Baltimore-based NLRB Region 5 has informed NNOC and Hopkins officials that it will pursue allegations that the hospital broke the law by:
Promulgating and/or enforcing a rule barring off-duty RNs access to break rooms, outside patient care areas, in connection with union activity, and

Prohibiting Hopkins RNs from talking about the union at work, while permitting other non-work conversations.
If Johns Hopkins officials refuse to agree to a settlement on the charges, the NLRB will issue a formal complaint against the hospital.
Other allegations against Johns Hopkins Hospital by NNOC charging the hospital with broad violations of the rights of Hopkins RNs who hope to join NNOC remain under investigation by the federal government.
In its charges to the NLRB, NNOC said the Johns Hopkins management has on multiple occasions prevented off-duty Johns Hopkins RNs from visiting other RN colleagues while on their breaks to discuss how NNOC representation would strengthen their collective ability to improve patient care staffing, as well upgrade substandard economic standards and workplace conditions. The hospital is engaging in other illegal interference with RNs rights under federal labor law, NNOC charges.
Johns Hopkins is waging an aggressive campaign, spending millions of dollars, NNOC alleges, on anti-union efforts, often violating labor law workplace rights.
Inadequate conditions and other standards, compared to other nationally recognized university hospitals, have led to high turnover and eroded patient care protections and employee morale, say Johns Hopkins RNs.
"We are organizing at Johns Hopkins Hospital in order to provide the highest quality of care to our patients, and we are disheartened to see hospital management react in this manner," said Kate Phillips, RN, Medical Intensive Care Unit.
"Our patients deserve the best patient care from us, but instead of investing in the nurses that provide the direct care, our hospital has diverted patient care dollars to professional union busters. It is a shame that my colleagues are subjected to misinformation and intimidation by labor consultants who roam our units falsely claiming to be neutral," said Helen Paik, RN, Medical Intensive Care Unit.
"We are coming together to address safe staffing, pay, benefits, and working conditions—all of which affect our ability to provide quality patient care. Management should not be paying so much money to stop us from talking to each other," says Alex Laslett, RN, Surgical Intensive Care Unit.
National Nurses United is the largest nurses' union and professional association in the U.S., representing 150,000 registered nurses.