Press Release
Kindred San Gabriel nurses and caregivers: hospital industry attack on safe staffing puts lives of patients, nurses, workers at risk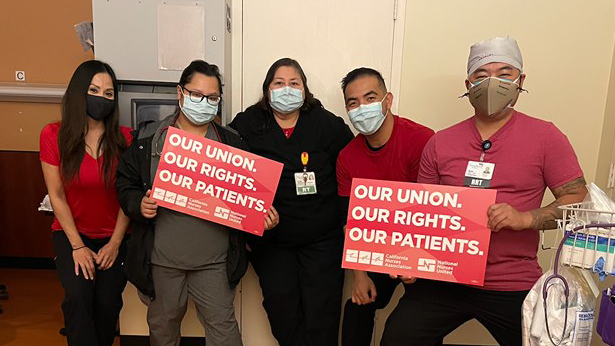 Registered nurses and caregivers at Kindred San Gabriel Hospital will hold a press conference, tomorrow, Feb. 10 to protest the unsafe staffing conditions at the hospital, announced California Nurses Association/National Nurses United (CNA/NNU) and Caregivers Healthcare and Employees Union (CHEU) today.
 
"The hospital administration has used the pandemic as an excuse to cut corners and to cut the number of nurses and caregivers per shift," said Maria Larangang, respiratory care practitioner. "When we are not adequately staffed in the hospital, our patients are the ones who suffer the consequences. We have less time to give them the care that they need, and they may have to wait for needed treatment, medication, or care."
Who: RNs, caregivers, concerned community, patients, and families
What: Press Conference
When: Wednesday, Feb. 10, 2021, 8 a.m.
Where: Kindred San Gabriel Hospital
             845 North Lark Ellen Avenue
             West Covina, Calif. 91791
Health care workers delivered a letter signed by dozens of employees demanding the hospital take every measure to ensure adequate staffing at all times to maintain safe patient care. However, the hospital has failed to respond to these demands.
Nurses say the hospital has failed to establish proper isolation protocols to prevent the spread of Covid-19 and both Covid and non-Covid patients are being housed within the same unit, increasing the possibility of transmission of the virus.
In addition, short staffing has meant that nurses who work 12-hour shifts are working without proper breaks, or without a meal. Studies show that short staffing leads to higher rates of patient falls, higher rates of infection, and mistakes on the part of the caregiver.
Respiratory therapists say they have seen their staffing cut as well. Prior to the pandemic, there were usually five respiratory therapists working per shift, that number is now often cut down to only three.
Since February, noted CNA President Zenei Triunfo-Cortez, RN, "nurses have been working under enormous strain, putting their lives and safety in jeopardy, without enough personal protection equipment, and without sufficient hospital engineering controls to reduce the spread of infection that have turned hospitals into Covid-19 hot zones."