Press Release
Kindred Hospital - San Gabriel Valley Healthcare Workers Vote by Wide Margin To Join Union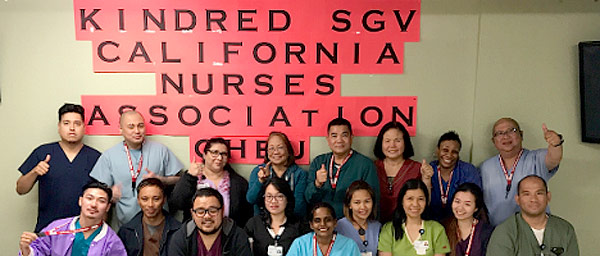 Voicing concern about safe staffing, fair pay, and respect in the workplace, two hundred healthcare workers at Kindred Hospital-San Gabriel Valley in West Covina, Ca. voted by an overwhelming margin Thursday night to join the Caregivers and Healthcare Employees Union (CHEU).
CHEU, an affiliate of the California Nurses Association/National Nurses Organizing Committee (CNA/NNOC), represents a broad range of caregivers and hospital support staff, such as laboratory technicians, respiratory therapists, aides and food service workers.
In the lead up to the election, the healthcare workers expressed a strong desire for a collective voice to improve staffing, assure sufficient medical supplies and equipment for patient care, and improve salary and benefits to curb the high turnover rate. 
"We are glad to be joining CHEU so that we can combine our advocacy power with the registered nurses. Worker turnover at Kindred San Gabriel has been high, and we need to have fair pay and benefits to keep our staff from leaving," said Monica Hernandez, CNA.  
"We are excited to celebrate our CHEU union victory and to be joining the current CNA/CHEU members at Kindred-Baldwin Park and Kindred Westminster. Together, we can make a real difference in patient care and get the equipment and supplies we desperately need," said JoJo Padua, LVN.
Last year unionization swept Kindred facilities in the region and CNA and CHEU now represent over 1,000 Kindred RNs and healthcare workers at facilities in the region, including San Gabriel Valley, Baldwin Park and Westminster.
The California Nurses Association has a membership of 100,000 RNs in more than 200 facilities throughout California. CNA plays a leadership role in safeguarding the health and safety of RNs and their patients and has won landmark legislation in the areas of staffing, safe patient handling, infectious disease and workplace violence prevention.