Press Release
Kansas City RNs Vote to Join Nation's Largest RN Union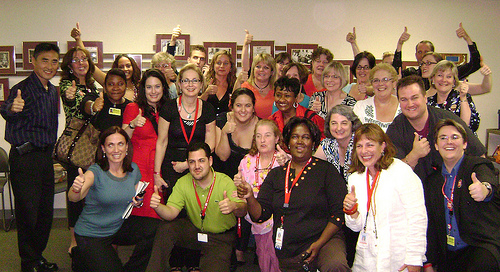 For Immediate Release
September 15, 2010
Research Med Center Becomes Largest Union Hospital in Missouri
Latest in Election Wave for National Nurses United at HCA Hospitals
Registered nurses at Research Medical Center in Kansas City Tuesday night voted by nearly two-thirds to join the National Nurses Organizing Committee-Missouri, an affiliate of the National Nurses United, the U.S.' largest union and professional association of RNs.
In a secret ballot election conduced by the National Labor Relations Board, the RNs voted 258 to 148, a 64 percent margin, for NNOC-Missouri, a decision greeted by cheers and hugs by nurses watching the vote count. NNOC-Missouri/NNU will represent 600 RNs at Research Medical, owned by HCA Midwest Health System, which is a part of the biggest hospital system in the country.
With the vote, Research Medical Center becomes the largest unionized hospital in Missouri. The win also continues a stirring run of election wins for NNU at HCA affiliated hospitals.
NNU has now won elections this year for 3,500 RNs at six HCA hospitals in Missouri, Texas, and Nevada.
NNU also represents RNs at HCA hospitals in California as well as two nearby HCA Midwest hospitals, Menorah Medical Center in Overland Park, Ks, and Lee's Summit Medical Center in Lee's Summit, Mo. Overall NNU has organized some 4,500 RNs this year in Missouri, Texas, Nevada, and Illinois.
"With a 64% victory, I think our voice has been heard, said Research RNs Susan Komen and Patty Rome. "Winning this election is a big victory for our patients."
"It's been a long time coming. RMC has joined the largest RN union in the country. Along with Menorah and Lee's Summit we will try to establish a new vision for healthcare for the patients of Kansas City," said Leslie Remington, RN, ICU
"It took us 10 years, but we did it," said RNs Dottie Robinson and Louise McNeLly. "We nurses have spoken for our patients and the future of nursing."
"Congratulations to the RNs at Research. We are thrilled to welcome you into the growing, national movement of HCA nurses who are uniting under the banner of National Nurses United to work together for high quality care for our patients, and improved standards for nurses," said Malinda Markowitz, an HCA RN from California and national vice president of NNU.
"This victory by Research RNs will inspire other Missouri RNs to organize to improve patient care throughout the state. It will also provide encouragement to other HCA nurses from coast to coast who wish to join with their colleagues in forming a stronger national council of HCA RNs and in building a more powerful national movement of all direct care RNs," Markowitz said.
NNU was formed late last year, unifying the California Nurses Association/National Nurses Organizing Committee, United American Nurses, and Massachusetts Nurses Association in part to promote the union representation of non-union nurses at hospitals like Research.