Press Release
Kansas City Area RNs Set to Protest Staffing Cuts Called Threat to Patients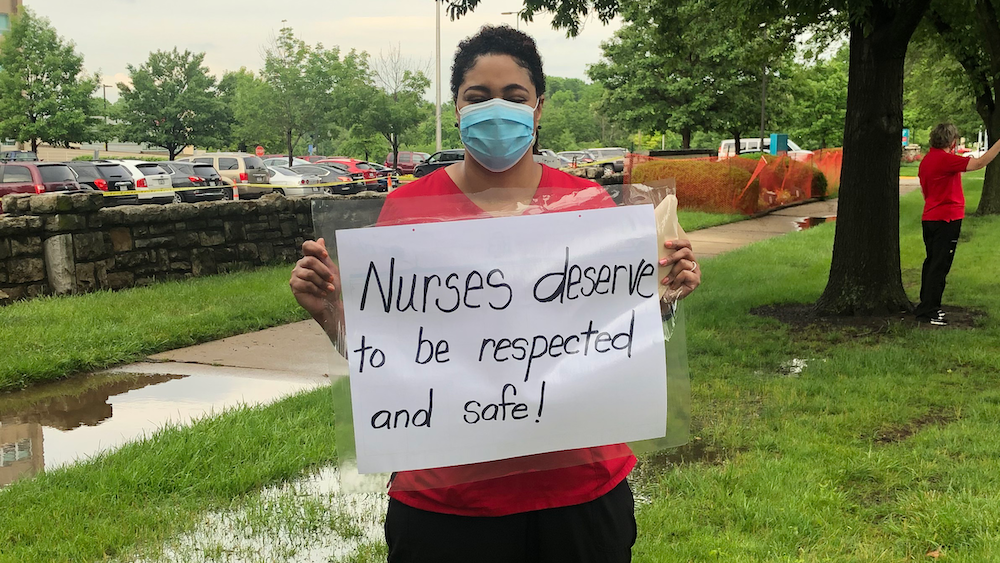 Registered Nurses at HCA's Research Medical Center and Menorah Medical Center RNs will protest together Wednesday to warn the public about reductions in safe staffing they say put patients in danger in major hospital areas, including critical care and COVID-19 care.

In a moment when the nation is in an uproar over systemic racism, nurses warn the cuts will have a disproportionate impact on Black and Latinx patients who comprise a large proportion of Research patients, aggravating existing racial disparities in health. A high percentage of the medical staff at Research affected by the cuts are also women and men of color.
What: RN Protest over Staffing Cuts
When: Wednesday, June 17, 6 p.m.
Where: Research Medical Center, 2316 E Meyer Blvd, Kansas City
Kansas City contact: Julie Perry RN, 816-665-4746

In critical care units, including, where patients with life-threatening injuries or illnesses, including a COVID-19 unit, require the most intensive care, trauma patients often need several RNs per patient.  But RMC has reduced RN, tech, and other support personnel, Those who remain are so short-staffed they frequently miss meal and rest breaks, increasing fatigue which raises the risk of making mistakes.

"Poor staffing levels, from RNs to patient support staff, puts all of our patients at grave risk, especially our most dangerously ill or injured patients," said Research RN Angela Davis.

In general medical care units, where the severity of patients requires no more than four patients per nurse, RN staffing assignments are nearly doubled. That increases the risk of nurses not being able to get to their patients in time, administering medications late, and delays while searching for the additional staff needed. These nurses also frequently miss needed meal and rest breaks.

"When we have fewer nurses, it means we are running between patients and don't have the essential time we need to provide timely, individualized care our patients need and deserve. This is a dangerous situation," said Menorah RN Summer Baker.

Inadequate staffing is pervasive in other hospital areas as well, say nurses, that affects safe care for kidney and other organ transplant patients, cancer care patients, and patients on heart monitors.

"At a time when the nation as a whole is finally beginning to address and acknowledge the many racial disparities in health, it is disgraceful to see HCA and RMC making cuts that will harm our African American and Latinx patients and neighbors, and staff. We will continue to speak out," said Zoe Schmidt, a Research RN.

"RMC is cutting staffing to the bone to punish nurses who have been outspoken in defense of their patients and their own safety in the midst of a global pandemic. It is unconscionable and a threat to the entire community," said Malinda Markowitz, RN, a national president of the National Nurses Organizing Committee, an affiliate of National Nurses United, which represents RMC and Menorah RNs. Overall NNU affiliates represent 10,000 other HCA RNs.

"HCA is the wealthiest hospital system in the country. It just received a $1 billion taxpayer-funded bailout in pandemic stimulus funds. There is no excuse for reducing care for patients and targeting its most medically underserved communities," said Research RN Pascaline Muhindura.