Press Release
Kansas City Area RNs Approve New HCA Contracts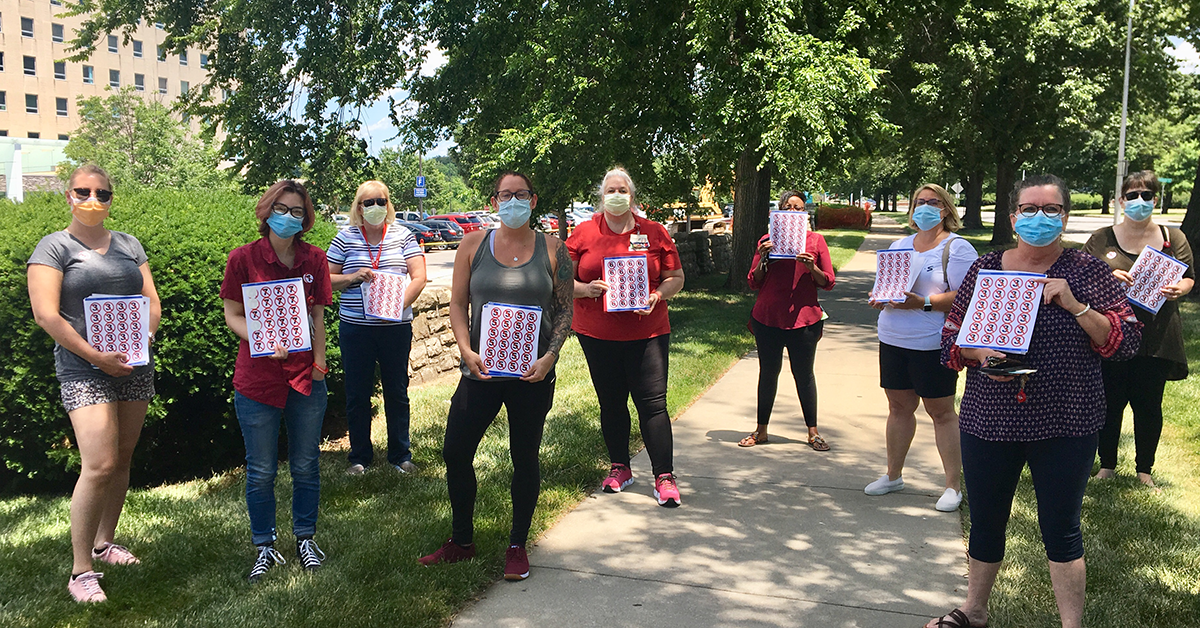 Cite Health and Safety Improvements Amid Latest Covid-19 Surge
Registered nurses at Kansas City area HCA hospitals have overwhelmingly approved new collective bargaining contracts they say will provide significant improvements in infectious disease control measures that are essential with the latest Delta variant driven surge in the Covid-19 pandemic and will improve retention of nurses at the hospitals.
The agreements cover 700 RNs at Research Medical Center/Research Psychiatric Center in Kansas City, Mo. and 325 RNs at Menorah Medical Center in Overland Park, Kan. who are members of National Nurses Organizing Committee (NNOC), an affiliate of National Nurses United (NNU).
Pandemic safety provisions
"For a year and a half, our nurses have repeatedly voiced concerns with management about ensuring the highest safety precautions for our patients, our colleagues, and our families in the face of this once-in-a-century pandemic," said Research RN Cheryl Rodarmel, who is also a member of the RN negotiating team. "These new contract provisions are a substantial step forward that will benefit the entire hospital, and the patients and community who count on us."
At the heart of the pacts, all patients suspected of being infected with Covid-19 will be treated the same as confirmed Covid-positive patients, with nurses to be provided with the same level of protection for both suspected and confirmed cases. This includes access to single-use optimal personal protective equipment (PPE) for every encounter with a suspected or Covid-positive patient. With the much higher level of transmission associated with the Delta variant, these are significant safety precautions to reduce the spread of the virus in the hospital.
Additionally, the employer will ensure free Covid-19 tests will be available after exposure, unit department managers will be held accountable to address safety concerns raised by the nurses' patient care committees, the hospital's chief nursing officer will meet with the committees to evaluate the need for more resource nurses, and there will be enhanced protections for intra-unit transfers.
Further, the contracts provide for bargaining on the effects of novel infectious diseases.
Increased economic security for RNs
The new contracts also provide increased economic security for the RNs. Nurses will receive wage increases of up to 19 percent over the three years of the agreements, safeguards on their retirement plan, and strong limitations on changes to health coverage for nurses and their families.
"After the most painful and challenging year in all of our professional lives, the combination of critical health and safety improvements and economic gains and protections will help us keep our experienced RNs at the bedside and help in recruiting new nurses," said Menorah RN Heather Crawford, also a member of the RN negotiating team.
Among other contract provisions:
New RN committees to promote diversity, equity and inclusion on race, gender, age, and sexual orientation in hospital recruitment, retention, promotion, and training. These committees will also address issues of structural racism in the nursing profession and barriers to practice and ensure a nursing workforce that is reflective of the community.
An improved ability to bring a nurse representative to report harassment and discrimination and agreement that concerns will be promptly addressed.
Enhanced meal and break relief language.
Improvements in how the hospitals provide compensation when nurses pick up extra shifts to assist with staffing needs.
Paid time off to vote in elections.
New job classifications to provide flexibility of schedules to facilitate retention and recruitment of RNs.
30 days' advance notice and the ability to bargain over certain proposed personnel changes.
The settlements for registered nurses at Research Medical Center/Research Psychiatric Center and Menorah Medical Center follow new contracts achieved in recent weeks for RNs at HCA hospitals in Florida, North Carolina, Texas, and a mid-term contract adjustment at California HCA hospitals.
NNOC/NNU represents 12,000 HCA RNs at 20 HCA hospitals from Florida to California. Overall, NNU represents 175,000 RNs nationwide.