Press Release
Kaiser RNs to Picket 21 Northern, Central California Hospitals December 19 over Short Staffing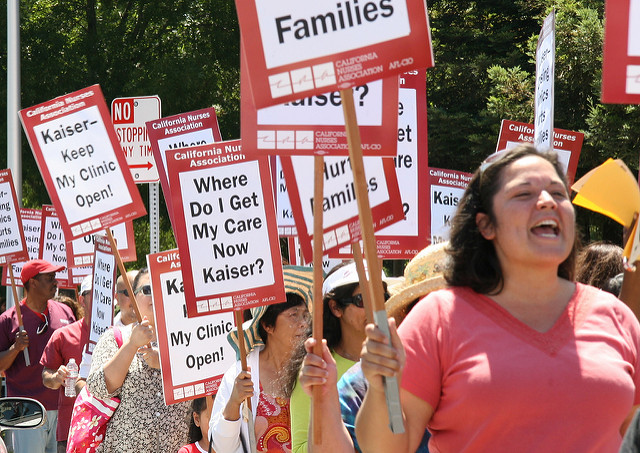 Registered nurses will picket 21 Kaiser Permanente hospitals from Santa Rosa to Fresno Wednesday, December 19 to protest what they say is persistently inadequate nurse staffing in emergency care and other hospital areas, as well as patients being turned away from needed care, the California Nurses Association/National Nurses United announced today.

Picketing at all 21 hospitals, including big Kaiser medical centers in San Francisco, Oakland, Sacramento, and other Northern and Central California facilities, will be held from 2 to 6 p.m.

In a letter to incoming Kaiser CEO Bernard Tyson November 30, CNA Co-President Zenei Cortez, RN, who also chairs the CNA's regional bargaining council, said that the RNs are alarmed that Kaiser is "consistently and systematically failing to provide sufficient staff to take care of their patients." This concern, she wrote, "has been raised with executives locally and regionally in many formats."

CNA, which represents 17,000 Kaiser RNs, says short staffing has become a chronic problem in Kaiser emergency rooms, labor and delivery, general medical units, and other hospital areas. In addition, RNs charge, Kaiser is too often sending patients home from the hospital prematurely and expecting family members to care for patients who should still be in the hospital.  

"Kaiser has refused to provide the nursing staff needed to safely take care of patients in our hospitals," said Katy Roemer, RN, Kaiser Oakland.  "We are seeing patients who used to be admitted into the hospital for care now being forced to stay in the Emergency Department for hours and hours."

"Our patients are harmed when Kaiser cuts how much care is available to them" said Sabina Schulz RN, Kaiser Santa Rosa. "Nurses are outraged that Kaiser would refuse to staff our hospitals and clinics appropriately."  
 
"Kaiser nurses are standing united to demand that Kaiser immediately staff our hospitals based on the needs of our patients instead of an arbitrary budget.  Kaiser needs to stop shifting their money to executive pay and start using that money on patient care," said Cathy Kennedy, RN, Kaiser Roseville.

Specifically, the RNs are calling on Kaiser to:
Immediately address short staffing, including staffing hospitals and clinics by patient need, not on arbitrary regional budget goals.
Admit all patients who need care. No patient should have to wait, as many do now, in 23 hour "observation" units before being appropriately admitted for in-patient care.
Staff hospitals with permanently scheduled RNs who are committed to their local communities rather than the current over reliance on temporary and travel RNs.
"Kaiser nurses in our hospital have verbalized, documented and reported over 500 episodes of unsafe staffing violations in the hospital in 2012," said Leesa Evans, RN Kaiser Walnut Creek. "When RNs advocate for the time patients need for medical care, the response is often, "we don't have anybody else." Unreliable staffing leads to poor quality patient care that this profitable giant could easily remediate, but will not, as it remains more profitable to under staff."

"Nurses are frustrated with Kaiser continually short changing patients by cutting staff while their profits are skyrocketing," said Rida Villanueva, RN, Kaiser Vallejo.

Picketing will occur on Dec. 19, from 2 to 6 p.m. at the following locations:

Sacramento Area
Roseville Medical Center, 1600 Eureka Rd.
Sacramento Medical Center, 2025 Morse Ave.
South Sacramento Med Center, 6600 Bruceville Rd.  

East Bay
Antioch Medical Center, 4501 Sand Creek Rd.
Fremont Medical Center, 39400 Paseo Padre Parkway
Hayward Medical Center, 27400 Hesperian Blvd.
Oakland Medical Center, 280 W MacArthur Blvd.
Richmond Medical Center, 901 Nevin Ave.
Walnut Creek Medical Center, 1425 South Main St.  

San Francisco/Peninsula
San Francisco Medical Center, 2425 Geary Blvd.  
South San Francisco Medical Center, 1200 El Camino Real
Redwood City Medical Center, 1150 Veterans Blvd.

North Bay/Solano County
Santa Rosa Medical Center, 401 Bicentennial Way
San Rafael Medical Center, 99 Montecillo Rd.
Vacaville Medical Center, 1 Quality Dr.
Vallejo Medical Center, 975 Sereno Dr.

South Bay
San Jose Medical Center, 250 Hospital Parkway
Santa Clara Medical Center, 700 Lawrence Expressway

Central Valley
Fresno Medical Center, 7300 North Fresno St.
Manteca Medical Center, 1777 W Yosemite Ave.
Modesto Medical Center, 4601 Dale Rd.