Press Release
Kaiser RNs Announce Plans to Strike January 21-22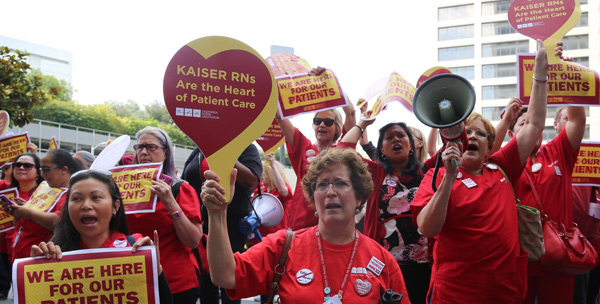 Protest Kaiser Failure to Reverse Patient Care Cutbacks
After months of Kaiser Permanente's refusal to address the growing erosion of patient care standards, Kaiser RNs will hold a two-day strike January 21 and 22, the California Nurses Association/National Nurses United announced late today.
The walkout will involve 18,000 RNs and nurse practitioners at 86 Kaiser Permanente hospitals and clinics across Northern and Central California. Kaiser is both the largest hospital chain and health insurance company in California.
Kaiser facilities will be affected in Antioch, Daly City, Fremont, Fresno, Manteca, Modesto, Oakland, Petaluma, Pleasanton, Redwood City, Richmond, Roseville, Sacramento, San Francisco, San Leandro, San Jose, San Rafael, Santa Clara, Santa Rosa, South Sacramento, South San Francisco, Stockton, Vacaville, Vallejo, and Walnut Creek.
On patient care issues, Kaiser RNs have cited cuts in hospital services at a number of Kaiser hospitals, sharp restrictions on admitting patients for hospital care or early discharge of patients who still need hospitalization, and providing insufficient resources, equipment and training for care that nurses say puts patients and nurses alike at risk.  
Kaiser has made these cuts despite seeing record profits -- $3.1 billion in the first three quarters of 2014 alone, a 41 percent increase over the same period in 2013.
Much of the profit is fueled by a huge jump in paid enrollees, 422,000 for the same period of 2014, patients who "are now being increasingly denied the very care they are paying for," says Zenei Cortez, a Kaiser South San Francisco RN who chairs the Kaiser RN negotiating team and is also a CNA co-president.  
"We are striking because nurses deserve to have what we need to safely care for our patients at a time when Kaiser continues to hold patients in the ER who should be admitted, sending patients home early, and short staffing critical areas like labor and delivery," said Cortez. "Nurses are standing up for our patients and their right to receive safe excellent care."
"We are striking for our patients and community," said Kaiser Oakland RN Katy Roemer.  "We know that Kaiser has the resources to staff our hospitals and clinics safely and yet everyday we are working with fewer nurses than we need. Our patients deserve better."
"Kaiser insists on investing in multi billion sports teams, instead of our patients.  We as nurses know that it is wrong," said Deborah Burger, a Kaiser Santa Rosa RN and co-president of CNA.
Strike locations. The walkouts begin at 7 a.m., Wednesday, January 21, with the strike ending at 7 a.m. on Friday, January 23 at 7 a.m.
Antioch –4501 Sand Creek Rd.
Daly City – 395 Hickey Blvd.
Fremont –39400 Paseo Padre Parkway
Fresno – 7300 North Fresno St., 4785 North First St.
Hayward – 27303 Sleepy Hollow Ave.
Manteca –1777 W. Yosemite Ave.
Modesto – 4601 Dale Rd.
Oakland –  235 W. MacArthur, 3701 Broadway, 3772 Howe St.
Petaluma – 3900 Lakeville Hwy.
Pleasanton – 7601 Stoneridge Dr.
Redwood City –1150 Veterans Blvd.
Richmond – 901 Nevin Ave.
Roseville – 1600 Eureka Rd.
Sacramento – 2025 Morse Ave., 2040 Arden Way
San Leandro – 2500 Merced
San Francisco – 2425 Geary Blvd., 2200 O'Farrell St.
San Jose –250 Hospital Parkway
San Leandro –2500 Merced St.
San Rafael – 99 Montecillo Rd., 1033 Third St.
Santa Clara –700 Lawrence Expressway, 3840 Homestead Rd.
Santa Rosa – 401 Bicentennial Way, 3975 Old Redwood Hwy.
South Sacramento – 6600 Bruceville Rd.
South San Francisco – 1200 El Camino Real
Stockton –7373 West Lane
Union City – 3555 Whipple Rd.
Vacaville –1 Quality Dr.