Press Release
John Muir Medical Center Nurses Hold Informational Picket for Patient Safety on July 8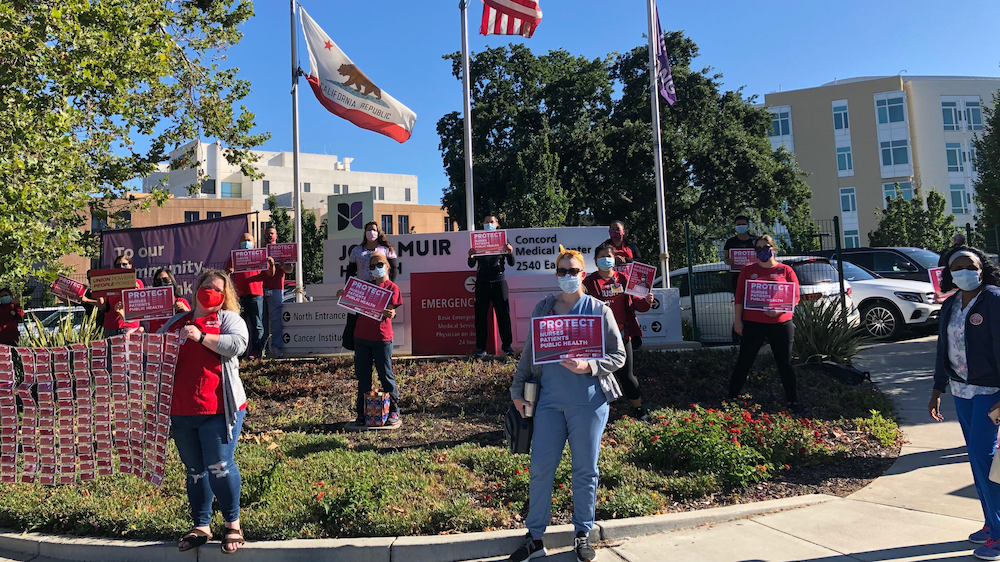 Registered nurses will hold an informational picket tomorrow, July 8, to highlight con­cerns about patient safety, unsafe staffing, and ongoing COVID-19 pandemic challenges at John Muir Medical Center-Concord campus, the California Nurses Association (CNA) announced today.
"We care for complex cardiac patients from all over the Bay Area," said Kate Thurston, RN. "Now more than ever, nurses are working to preserve patient safety at the bedside. Yet, we are stretched to do more with less, including shortages of critical staff for patients experiencing life-threatening emergencies, or 'codes.' It's time for hospital management to listen to nurses. Safety can't wait." 
What: Informational Picket for Safe Patient Care-Safe Staffing 
Where: John Muir Medical Center-Concord campus (in front of the hospital) 
             2540 East Street, Concord California 94520 
When: Wednesday, July 8, 7:45 a.m.–9:45 a.m.
NOTE: This is an informational picket, NOT a strike or work stoppage. Nurses are engaging in an informational picket during their non-work hours.
Nurses at John Muir Medical Center-Concord have been in negotiations for a fair contract with the hospital since September 2019. RNs are deeply concerned about patient safety and unsafe staffing. CNA represents nearly 700 nurses at the hospital.
"As RNs it's our job to advocate for our patients, and we will always speak up for them," said Joan Dauffenbach, an RN for 40 years who works in the Cardiac Cath Lab. "We invite the community to come out and stand with us on Wednesday, to say that the medical center must make a conscious effort to improve the staffing situation. It's time to take action!"