Press Release
Jackson Park Hospital nurses ratify new contract with strong measures to improve patient safety and nurse retention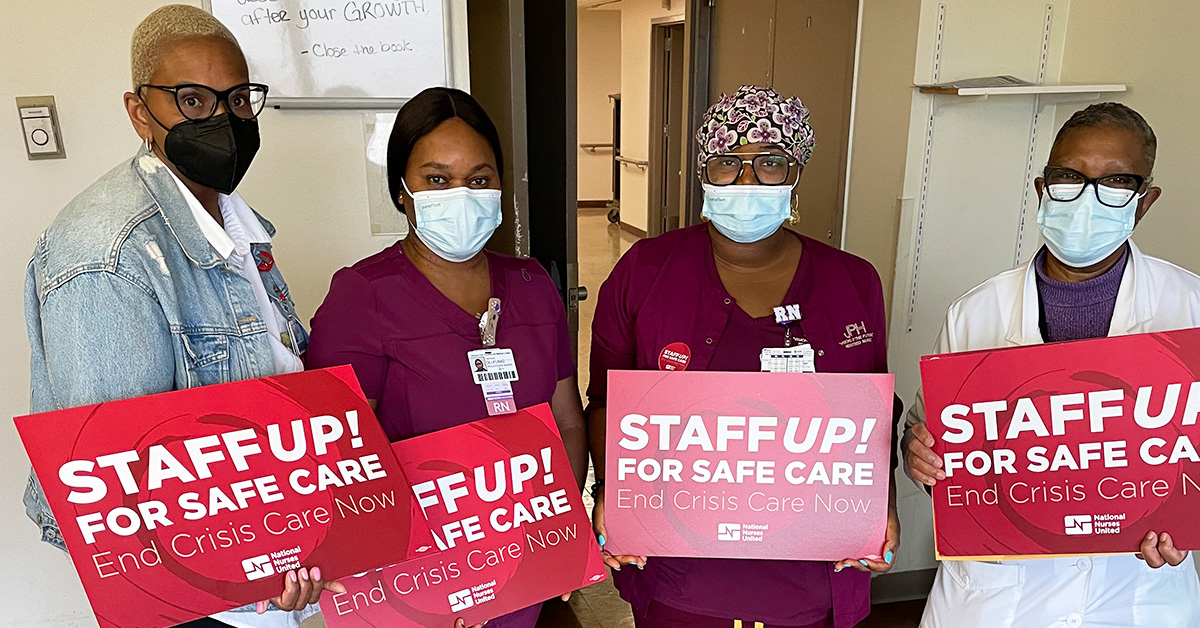 Registered nurses at Jackson Park Hospital in Chicago, Ill., voted unanimously in favor of ratifying a new three-year contract on Friday, Oct. 13, winning protections to improve patient safety and nurse retention announced National Nurses Organizing Committee/National Nurses United (NNOC/NNU).
"We are so proud of this new contract," said Jennifer Harris-Goldsmith RN in the case management department. "After historic bouts of inflation and a nurse staffing crisis, we were able to overcome and collectively win a contract that will improve staffing and patient outcomes all without taking any concessions and significantly increasing compensation for bedside nurses. This compensation package puts Jackson Park more in line with other nearby hospitals, which will make it easier to recruit and retain experienced nurses."
Highlights of the contract include: 
Workplace violence prevention measures to protect patients and staff.
Recruitment and retention language, including incentives and bonuses and measures to prevent outsourcing of nurses and to prioritize recruiting local, union nurses.
Investment in education: Increased tuition reimbursement for education so nurses can continue expanding their knowledge and skills. 
Economic gains to help retain and recruit experienced nurses, including no takeaways or concessions. The agreement includes average wage increases of 17 percent over the life of the contract.
The new pact covers the period July 1, 2023 to July 1, 2026.
"The nurses, faith leaders, and the community rose up to improve the standards of care within this historic community hospital," said Yulonda Clark, RN in the emergency room. "Our patients on the South Side of Chicago deserve the same quality of care as the richest patients in the city and with this new agreement we have the tools and ability to attract and retain the nursing talent we need to safely deliver patient care."
NNOC represents more than 60 nurses at Jackson Park Hospital.
---
National Nurses Organizing Committee is an affiliate of National Nurses United, the largest and fastest-growing union and professional association of registered nurses in the United States with nearly 225,000 members nationwide. NNU affiliates also include California Nurses Association, DC Nurses Association, Michigan Nurses Association, Minnesota Nurses Association, and New York State Nurses Association.