Press Release
Hundreds of Nurses to Visit Legislators Tuesday, May 1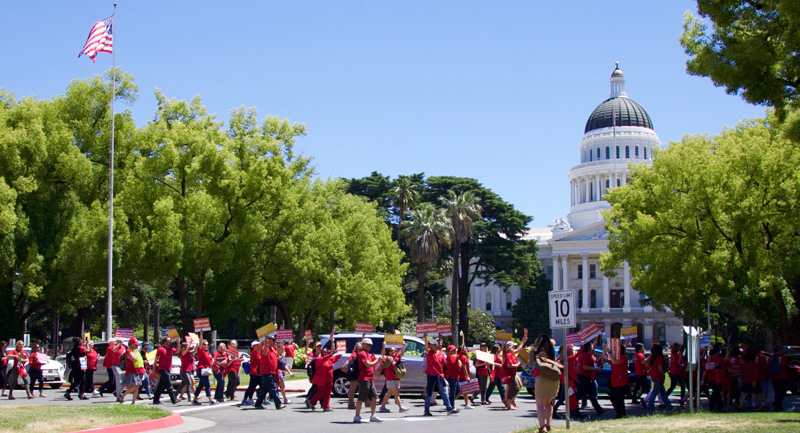 Urge Action on Hospital Closures, Bills That Threaten Patient Safety & Lower Care Standards for Medi-Cal Patients
Some 400 RNs will gather in Sacramento Tuesday May 1, in advance of National Nurses Week, to urge legislators to act on critical bills affecting hospital closures and a threat to patients in need of emergency care, as well as other legislative concerns.
Secretary of State Alex Padilla, new Senate President Pro Tempore Toni Atkins, Assembly member Tony Thurmond, and Assembly member Freddie Rodriguez, who is also an emergency medical technician will be among those welcoming the RNs in a morning session that highlights the California Nurses Association/National Nurses United (CNA/NNU) legislative program for 2018.
What: CNA RNs to Visit Legislators on Patient, RN Legislative Concerns
When: Tuesday, May 1, 9:45 a.m.
Where: Crest Theater, 1030 K St., Sacramento, followed by a march to the State Capitol beginning at 11:30 a.m.
This legislative day, CNA/NNU will emphasize concerns about three bills:
SB 944 and AB 1795 would authorize paramedics responding to 911 or other ambulance calls to perform medical clearance exams that are currently performed in emergency departments.  Instead, based solely on the evaluation of the paramedics, who are trained in pre-hospital emergency care, patients would be diverted away from hospital emergency departments to alternate destinations with limited medical services, putting patients at risk. CNA is strongly opposing the bills.
AB 2874, by Assembly member Thurmond and sponsored by CNA, would expand public notice requirements – warnings to the public – to at least 180 days before a hospital or other health facility closes or makes other substantive cuts in services that affect communities and public safety. The bill would require the facility to obtain the written consent of the California Attorney General prior to closing a hospital or eliminating supplemental services, as currently required for the sale of a non-profit hospital.