Press Release
Hospice Nurses Hold Candelight Vigil Tomorrow, Urge Hospice of Southern Maine to Listen to Staff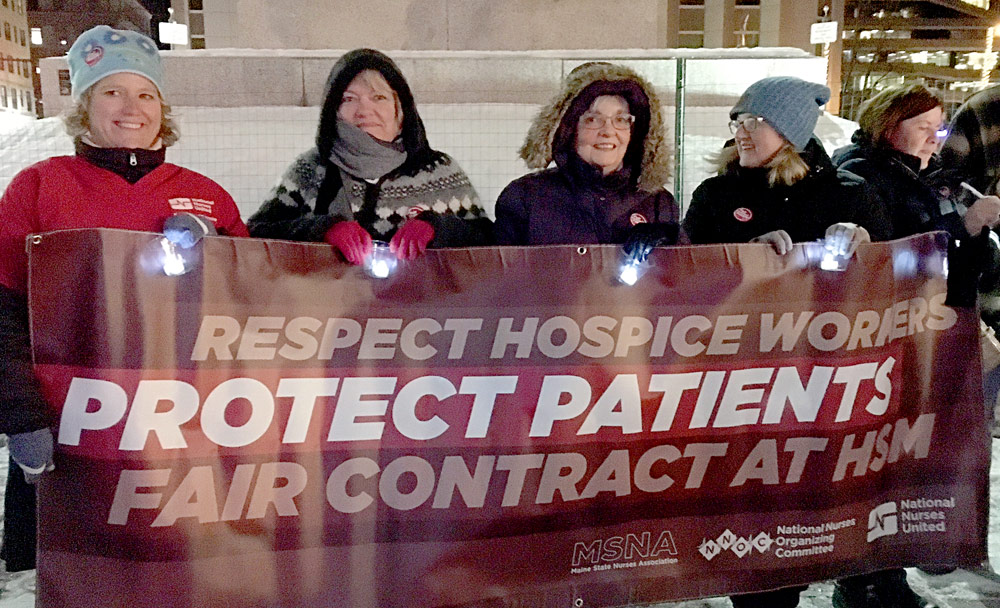 Vigil at 6pm at Monument Square, Portland
Hospice of Southern Maine (HSM) hospital workers are having a candlelight vigil Wednesday at 6pm (tomorrow) to draw attention to patient care issues. The employees of HSM, recently unionized with the Maine State Nurses Association/National Nurses United (MSNA/NNU), are fighting for a fair contract – and patient care issues are at the center.
What: HSM Healthcare Workers Hold Candelight Vigil to Advocate for Patients
When: Wednesday, December 20, 6:00 pm
Where: Monument Square in Portland (456 Congress St.,)

HSM workers, which include RN's hospice aides, social workers, chaplains and others, successfully unionized last May. Core concerns included supporting patients and their families. Annette Lemek, a Social Worker at HSM, wrote in an op-ed on behalf of her co-workers:

"We felt strongly that the voices of the patients needed to be heard at every stage of the healthcare delivery process and that the best people to represent those voices would be the people who had daily, direct contact with our patients."

However, management at HSM has engaged in retaliation, heightened scrutiny and other attacks on union activists. Unfair labor practice charges have been filed with the National Labor Relations Board (NLRB) They are refusing to bargain in good faith and refusing requests for bargaining dates.

Lamek said on behalf of her colleagues: "In spite of HSM management's retaliation and delays, we are standing together to achieve a contract that includes the power to advocate for our patients and the community, and for improved working conditions that will attract and retain experienced hospice workers."

During this vigil, hospice workers will express their serious commitment to improving patient care and settling a fair contract, as well as how the community can help.