Press Release
Henry Mayo Newhall Hospital nurses say: Hospital industry attack on safe staffing puts lives of patients, nurses, workers at risk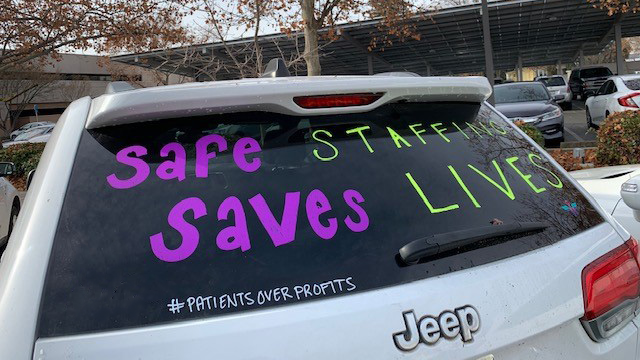 Registered nurses at Henry Mayo Newhall Hospital will hold a car caravan on Friday, Jan. 8, 2021 to protest their employer's use of a state waiver to circumvent RN-to-patient safe staffing standards, announced California Nurses Association/National Nurses United (CNA/NNU) today. Nurses are urging Henry Mayo Newhall Hospital to staff for safe patient care, and not use the pandemic as an excuse to put patients at serious risk.
Under "expedited waivers," hospitals can increase the workload of already overburdened nurses. By the mere submission of a form, hospitals can require nurses in intensive care units and throughout the hospital setting to unsafely care for too many patients at one time. Nurses are calling on the California Department of Public Health to immediately rescind all waivers of safe staffing standards.
"Rolling back safety standards will surely lead to more hospital-acquired infections, and put the lives of patients, registered nurses, and other health care workers at risk," warned CNA/NNU President Zenei Cortez, RN. "Instead of working with nurses to prepare, to plan, and to make sure they had the staffing in place before a massive wave hit, hospitals want the state and all Californians to bail them out from the crisis they themselves have created."
"Exceeding the staffing ratios has led to nurses unable to eat at times, get water or use the restroom, increased illnesses, and further perpetuates the staffing crisis," said Clarissa Simpson, an RN in the ICU unit at Henry Mayo Newhall Hospital. "With the recent 60-day waiver approval at Henry Mayo, nurses now have too many patients, and are unable to provide the best possible care based on their needs."
Who: Henry Mayo registered nurses, community members, patients, and families
What: CAR CARAVAN to demand safe staffing for patients
When: Friday, Jan., 8, 2020, 8 a.m.
Where: Nurses are meeting at the Corner Bakery parking lot (24290 McBean Pkwy, Santa Clarita, CA 91355). Nurse cars will be traveling a loop, clockwise, on McBean Pkwy to The Old Rd to Valencia Blvd.
"During the pandemic, we've seen hospital units closed, nurses laid off, nurses called off shifts, and workplace conditions so dangerous that scores of nurses have left," said Cortez. "Hospitals have left vacancies open while profit-generating elective procedures continued or started up again prematurely."
California's multibillion hospital industry fought for more than a decade to block the state's landmark safe staffing law, which went into effect in 2004, even though studies have shown the California law has resulted in up to 14 percent fewer patient deaths than in comparable hospitals, assured nurses more time to spend with patients, and kept nurses at the bedside.
CNA/NNU represents nearly 700 registered nurses at Henry Mayo Newhall Hospital.