Press Release
Fresh Off Bernie Sanders' Wisconsin Win, #BernieBus Nurses Head to Gary and Fort Wayne Indiana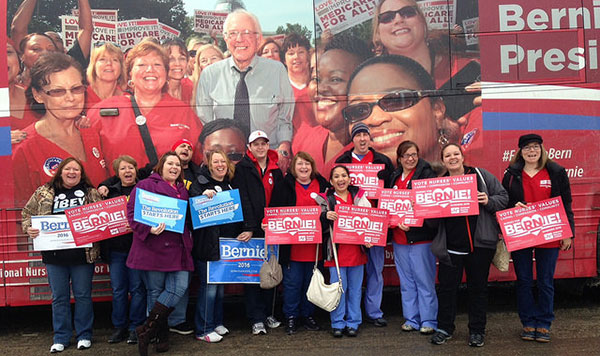 After connecting with voters throughout Wisconsin this past week—nurses aboard National Nurses United's #BernieBus will head to Indiana Wednesday, to talk to Hoosiers about the issues impacting their lives.
"Wisconsin just gave even more momentum to the people's revolution, championed by Bernie Sanders, and now we look forward to meeting with voters in Indiana this week," said Jean Ross, RN, National Nurses United Co-President, who has been traveling on the #BernieBus.
Bernie Bus Stops for Wednesday, April 6, 2016
Morning—#BernieBus nurses will meet with local activists in Gary who oppose the building of a proposed for-profit prison facility. They will meet at the proposed prison site in Gary, IN 46406.
Afternoon—Nurses meet with students at Indiana University-Purdue University Fort Wayne, to talk about Bernie's support for free education at public colleges and universities, and ending student debt.
Evening—The #BernieBus will visit the Fort Wayne Komets vs. Quad City Mallards hockey game in Fort Wayne, IN 46805.
Please contact Elise Nabors for specific times, places to connect with bus: 510-219-6252

National Nurses United, with over 185,000 members from all 50 states, is the largest organization of registered nurses in the U.S. and the first union to endorse Sanders, in August last year. Since then, NNU members have been organizing house parties, rallies and phone banks, and mobilizing door-to-door efforts in support of Sanders.
"From Nevada to New Hampshire, from Colorado to South Carolina, RNs have talked to voters and been reminded of the huge gaps in access to healthcare and education, concerns about retirement security, the jobs lost due to unfair trade deals, widespread inequality, and the escalating climate crisis," said RoseAnn DeMoro, NNU Executive Director. "Bernie Sanders and the legions of grassroots activists around the U.S. who have joined him will not stop. The political revolution is just beginning."