Press Release
Fremont nurses to protest unsafe patient care proposals and cuts to health care benefits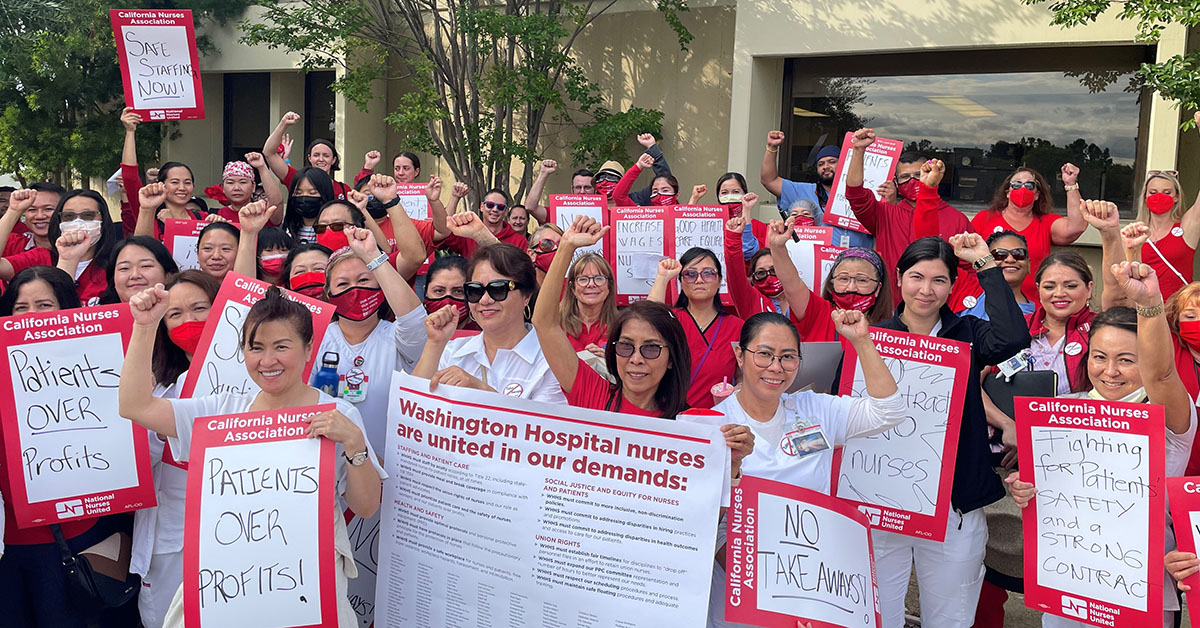 Registered nurses at Washington Hospital in Fremont, California, will hold an informational picket on Monday, November 13 to protest unsafe and disrespectful proposals put forward by management during contract negotiations.
The nurses, who are members of California Nurses Association/National Nurses United (CNA/NNU), are especially concerned about a proposal put forward by management related to 'floating,' which is the redirection of staff nurses from their assigned units to short-staffed units. Washington Hospital's proposal would force nurses to work in units that have different competencies and equipment, without adequate training — risking patient safety.
"The hospital's current 'floating' proposal is unacceptable and unsafe," said Connie Rodriguez, RN and member of the bargaining team. "We are demanding that new graduates have at least six months of experience and training before being floated. Additionally, nurses should have the opportunity to be trained before being floated to a unit other than a regularly assigned unit. Nurses need to feel confident giving care at the bedside. Unfortunately, Washington Hospital's counter proposal is dangerous and unsafe for patients."
Management has also proposed changes to nurses' health care benefits that would triple their deductibles and out-of-pocket costs.
"Nurses worked on the front lines during the COVID pandemic to provide care to Fremont's most vulnerable patients, through incredible uncertainty and danger," said Kim Lake, RN, chief nurse representative and member of the bargaining team. "Management's drastic proposals that undermine our own health and well-being are unacceptable. If we are not healthy, we cannot properly care for our patients."
Who:  Registered nurses at Washington Hospital
What: Informational picket for patient safety and a fair contract
When: Monday, November 13, 6:00 a.m. to 10:00 a.m.
Where: Washington Hospital, 2000 Mowry Ave., the corner of Mowry Ave. and Civic Center Dr.
CNA/NNU represents more than 800 registered nurses at Washington Hospital.
---
California Nurses Association/National Nurses United is the largest and fastest-growing union and professional association of registered nurses in the nation with 100,000 members in more than 200 facilities throughout California and nearly 225,000 RNs nationwide.