Press Release
Fight to Save DMC Heightens with Spirited March Followed by Unanimous Richmond Council Vote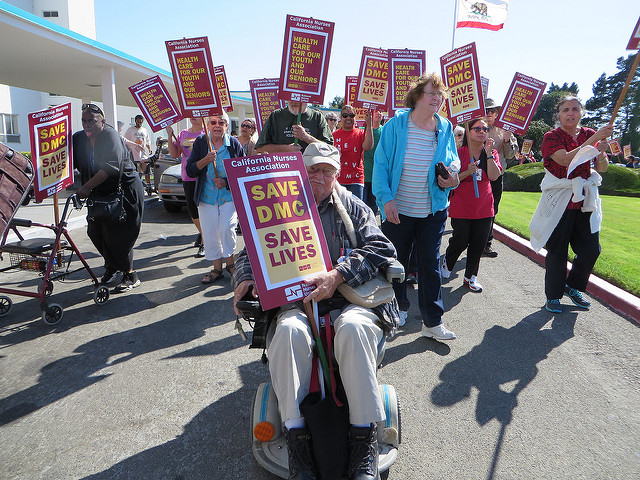 Richmond Council Votes Unanimously for County to Take Over DMC

SAN PABLO—Several hundred nurses, patients (many in wheelchairs), religious and community leaders, and elected officials marched yesterday from Doctors Medical Center in San Pablo to West Contra Costa Health Clinic, where an energetic rally followed.

An array of speakers, from Richmond Mayor Gayle McLaughlin to Pastor Donnell Jones, community organizer from New Direction Ministries in Richmond, spoke passionately about the critical need for keeping DMC and its emergency department open as a full-service, acute-care facility.
Later that evening, the Richmond City Council voted unanimously to approve a resolution urging Contra Costa County to integrate DMC into Contra Costa Health Services as a full-service, acute-care hospital to provide healthcare to all residents of West Contra Costa County.

The resolution stated that West County is disproportionally lacking in health services and DMC's closure would cause severe harm to the public health of its residents:
Residents would need to travel to Martinez for care, which would cause a hardship for the high proportion of elderly and low-income residents of West County
With the highest rate of asthma and respiratory illnesses in the county, other county hospitals don't have the same capabilities as DMC, which staffs a top-of-the-line cardiovascular and asthma/respiratory program.
DMC serves thousands of patients from all over the region, and also handles all industrial accidents within the immediate area.
West County predominantly comprises Latino, African American, and elderly communities -- all groups who have the highest rate of cardiovascular disease.
DMC is the only facility with a specialized cardiac catheterization lab essential for the diagnosis and treatment of heart disease.
"This community really supports keeping DMC open," Richmond Mayor Gayle McLaughlin said from the podium at yesterday's rally. "The people have gathered together to express their political will.  I'm with you on this and will continue to be with you. Those of you at the city council meeting Tuesday night know what a battle we had on our hands. We tried to get funding through the Chevron project. Five members of the council wouldn't hear it. Only the vice mayor and myself supported it. We continue to support Chevron's need to assist DMC. Chevron's continued incidents are something we live with and this full-service hospital in West county needs to remain open."
"We're here to support the community, the patients, and the staff, " said Melissa Thompson, an RN who works in the critical care unit at Contra Costa Regional Medical Center Sutter Delta Medical Center."Doctors needs to stay right here in this community. The patients need this hospital to stay open. We will stand behind you every step of the way. We love the patients. We love the community. As nurses this is what we do. We'll march, we'll walk, we'll shout, we'll go to city council meetings, anything that needs to be done to keep this hospital open."

"I have a few questions for you to ask your board of supervisors," said Laurel Hodgson, an ER physician at DMC. "Why, year after year, do you give $30 million to the county hospital and when we are really needy, you loan us [DMC], at extortion rates, $6 million dollars? We are the most efficient hospital in the county. Why aren't you supporting efficiency? We want the support you give to the county hospital given [to us] here, because we provide more patients, we provide dialysis, we provide heart attack care. It's time the rest of the county recognizes what this hospital has done for years and years and what we continue to do with all our hearts and our abilities."

"Let's remind people that Richmond and the area of West County has the sickest patients here, the highest cancer, heart disease, and diabetes," said Maria Sahagun, an ER RN at DMC.  "The assault on our communities is more blatant than ever.  Chevron needs to take responsibility. They've been with us for 105 years and it is their responsibility to help us out. We cannot allow this to happen. If it does, it's immoral. I am more motivated to go forward and fight this than ever."