Press Release
Emanate nurses: Hospital industry attack on safe staffing puts lives of patients, nurses, workers at risk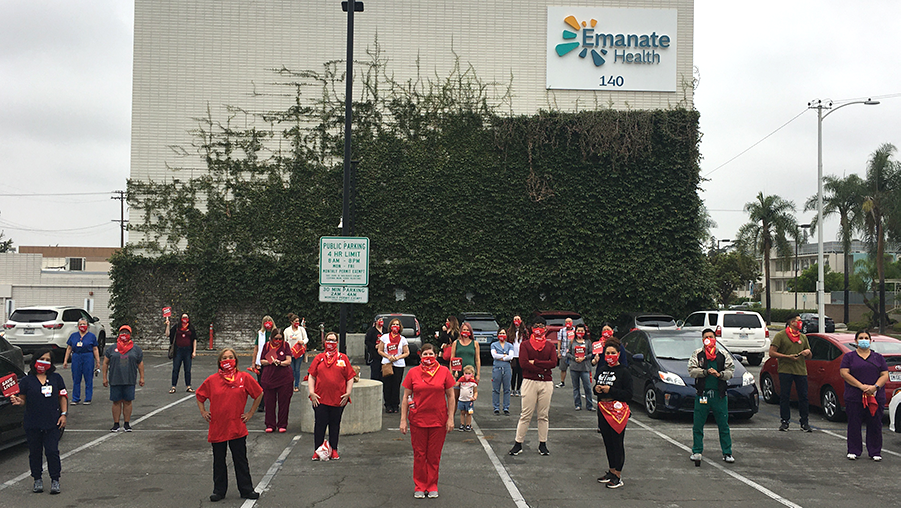 Registered nurses at Emanate Health in Covina, Calif., will hold a press conference on Friday, Dec. 18 to protest the recent waiver on safe staffing standards that has been granted to acute care hospitals, announced California Nurses Association/National Nurses United (CNA/NNU) today.
Nurses say they are urging Emanate to staff for safe patient care, not use the pandemic as an excuse to cut corners.
"Nurse to patient ratio is in place to provide safe and optimal patient care," said Emanate Emergency Department registered nurse Crystal Johnson. "The hospital had months to plan for this surge, so waiving ratios only creates chaos and does not take into account the acuity level of patients, in return, causing a hazardous unstable work environment with burnt out, fatigued nurses and unsafe patient care."
What: Press Conference
Who: RNs, concerned community, patients and families
When: 8:30 a.m. on Friday, Dec. 18
Where: Corner of Citrus Avenue and San Bernardino Road, Covina, CA. (Vacant Dealership Lot)
Contact: Antoinette McDaniel, Labor Representative (747) 240-0964
The union this week criticized the hospital industry for exploiting the pandemic as a means to roll back important safe staffing standards in California. This action places lives of patients, nurses, and other health care workers at risk. During the pandemic, California hospitals have been bombarding state health officials for individual, temporary waivers in adherence to California's landmark state staffing law, which requires minimum levels of registered nurse staffing for various hospital units.
California's multi-billion hospital industry fought for years to block the state's landmark safe staffing law, and then tried to overturn it, even though studies have shown the California law has resulted in up to 14 percent fewer patient deaths than in comparable hospitals, assured nurses more time to spend with patients, and kept nurses at the bedside far longer.
CNA/NNU Executive Director Bonnie Castillo, RN, has said that since February "nurses have been working under enormous strain, putting their lives and safety in jeopardy, without enough personal protection equipment, and without sufficient hospital engineering controls to reduce the spread of infection that have turned hospitals into Covid-19 hot zones."
After a 12-year fight, safe nurse-to-patient staffing ratios against the objections of the hospital industry.
Despite repeated demands by RNs, Emanate Health has refused to adequately prepare for this anticipated surge by staffing the hospital at appropriate levels. The California Department of Public Health (CDPH) has also urged each hospital to explore all possible avenues to mitigate the staffing crisis prior to seeking a waiver. Emanate nurses say they will never stop fighting, especially given that the pandemic is the absolute worst time to overload nurses with patients whose conditions are even more severe than before the pandemic.