Press Release
El Paso registered nurses at The Hospitals of Providence to hold action for optimal PPE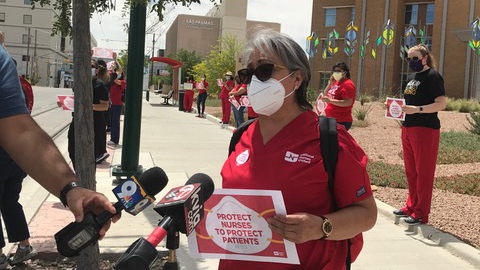 El Paso, Texas — Registered nurses at The Hospitals of Providence (THOP) will hold an action during their shift change on Saturday, Oct. 31 to share their concerns about the reuse of personal protective equipment (PPE) during the Covid-19 pandemic, announced National Nurses Organizing Committee/National Nurses United (NNOC/NNU) today.
As El Paso and other areas in the country face an unprecedented surge, nurses are advocating for their patients at all levels. Nurses want employers to protect RNs, other health care workers, and patients by following infection control practices that include providing optimal PPE.
As a matter of public health, El Paso NNOC nurses believe the recent statewide order suspending elective surgeries and El Paso County's "Stay Home, Work Safe" order in response to the surge in Covid cases, are necessary to protect health care workers, patients, and the community. The suspension of elective surgeries is important to preserve the limited supplies and beds during this surge.
"With the increased Covid cases in our community, it is even more important to protect nurses with optimal PPE in order for us to be able to provide optimal patient care," said Tanya Borunda, RN at THOP East Campus. "The community can also help protect health care workers by following the stay home order and only leaving for essential purposes and wearing a mask when they must leave the home."
Who: The Hospitals of Providence, East Campus, Sierra Campus, and Memorial Campus registered nurses
What: Shift change action with RN media availability to speak out about reuse of PPE and protections for frontline health care workers, RNs will be upholding 6-feet social distancing
Where: THOP East Campus, 3280 Joe Battle Blvd., El Paso, Texas, main entrance of the hospital
When: Saturday, Oct. 31, 12:00 p.m. to 1:00 p.m.
If you are interested in sending a camera crew to the action or in learning more about the situation at THOP, registered nurses will be available for the press. Contact: Don Driscoll, (813) 956-4764
NNOC/NNU represents more than 1,000 nurses at The Hospital of Providence East Campus, Sierra Campus, and Memorial Campus.