Press Release
El Paso nurses to hold informational picket urging The Hospitals of Providence to invest in patient safety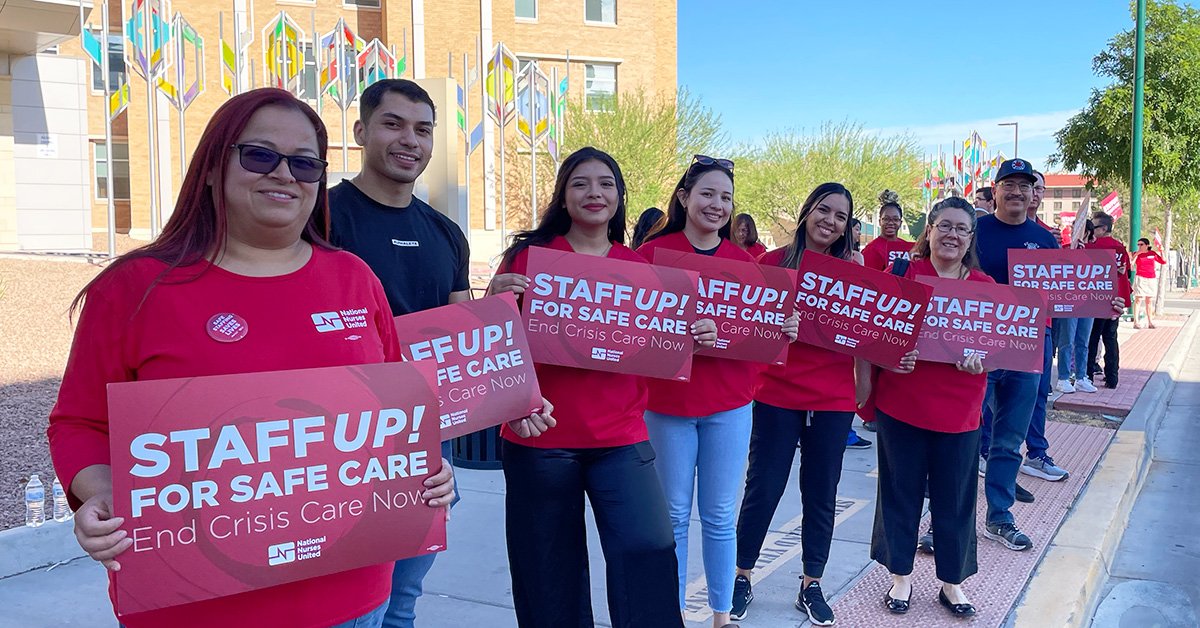 Registered nurses from Sierra, Memorial, and East Campuses will picket at Memorial Campus
Registered nurses at The Hospitals of Providence — Memorial, Sierra, and East Campuses — in El Paso, Texas, will hold an informational picket on Tuesday, Aug. 22, to protest the administration's refusal to address RNs' deep concerns about patient safety due to unsafe staffing and chronic problems with recruitment and retention of nurses, announced National Nurses Organizing Committee/National Nurses United (NNOC/NNU).
The Hospitals of Providence are owned by Tenet Healthcare, one of the largest for-profit hospital operators in the United States. Nurses at three of the hospital's El Paso campuses have been in negotiations since March for a new contract with little to no movement on key issues. According to Tenet records, since 2020, Memorial Campus has lost nearly one-third, and Sierra Campus close to one-fifth of its nursing staff.
"Our hospital had more than 400 nurses before the pandemic and we are now around 300," said Idali Cooper, RN, pediatric intensive care unit (PICU) at Memorial Campus. "This has dramatically reduced our ability to provide the safe patient care we want to give to our community."
Who:

The Hospitals of Providence registered nurses

What:

Informational picket for patient safety and a fair contract

When:

Tuesday, August 22, 8:30 a.m. - 10 a.m.

Where:

The Hospitals of Providence, Memorial Campus, 2001 N. Oregon St., El Paso, Texas
The union nurses are urging management to invest in nursing staff and to agree to a contract that will improve the recruitment and retention of nurses. RNs also want contract protections against unsafe staffing assignments, which includes unsafe floating, sending RNs to units they are not familiar with, and failing to provide them with the equipment necessary to care for the patients. According to RNs, management has ignored their proposals, and instead wants to potentially expand practices that put patients at risk, including holding patients in hallway beds and making them endure lengthy waits in the emergency department.
"Patients who are admitted should not be cared for in the emergency department or in the hallways," said Jennifer Mendoza, RN, rehabilitation unit at Sierra Campus. "They should be in a hospital room. We have had critical patients being cared for in the ED for up to a week. The ED doesn't have the same resources and support that patients would have if they were in the appropriate unit."
National Nurses Organizing Committee represents more than 750 nurses at The Hospitals of Providence.
---
National Nurses Organizing Committee is an affiliate of National Nurses United, the largest and fastest-growing union and professional association of registered nurses in the United States with nearly 225,000 members nationwide. NNU affiliates also include California Nurses Association, DC Nurses Association, Michigan Nurses Association, Minnesota Nurses Association, and New York State Nurses Association.