Press Release
El Paso nurses overwhelmingly ratify new contract with measures to improve patient safety and nurse retention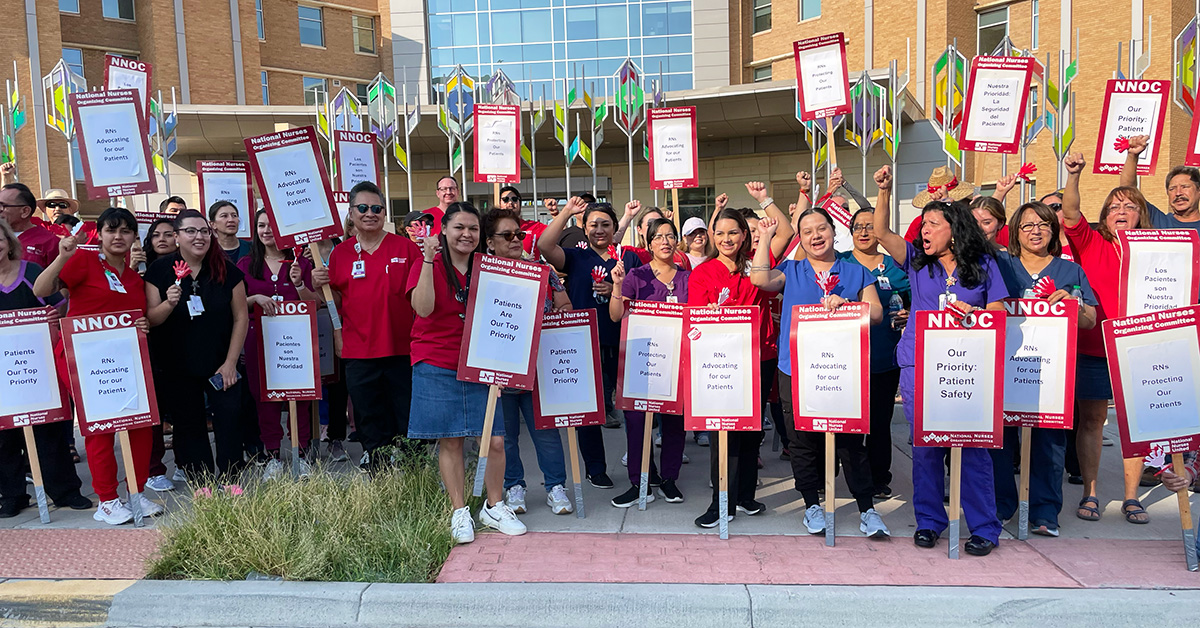 Registered nurses at The Hospitals of Providence's (THOP) Memorial, Sierra, and East Campuses in El Paso, Tex., voted 97.7 percent in favor of ratifying a new three-year contract yesterday, winning protections to improve patient safety and nurse retention, announced National Nurses Organizing Committee/National Nurses United (NNOC/NNU).
"Nurses are happy to reach an agreement with THOP that includes new health and safety protections, such as a lift team," said Jill Whipple, RN in the post-anesthesia care unit (PACU) at East campus and a member of the bargaining team. "With the continued presence of Covid, we are now guaranteed optimal PPE."
Highlights of the contract include:
Staffing improvements, including a dedicated lift team, better break support, and safer limitations for nurses floated between units;
Health and safety measures to minimize risk of infection and exposure against communicable disease, including screening and quarantining practices and negative pressures room with HEPA filters;
Economic enhancements, including paid time for nurses' work on the Professional Practice Committee, which address overall patient safety and care issues, as well as wage increases and protections against changes to benefits.
"Following our successful informational picket last week, we now have a contract that will help us recruit and retain qualified nurses with improvements to staffing during meal and rest breaks, competitive wages, and additional floating protections," said Renne White-Torres, RN at Sierra campus intensive care unit (ICU) and a member of the bargaining team.
The new pact covers the period from 2023 to June 30, 2026.
NNOC/NNU represents 900 nurses at The Hospitals of Providence.
---
National Nurses Organizing Committee is an affiliate of National Nurses United, the largest and fastest-growing union and professional association of registered nurses in the United States with nearly 225,000 members nationwide. NNU affiliates also include California Nurses Association, DC Nurses Association, Michigan Nurses Association, Minnesota Nurses Association, and New York State Nurses Association.