Press Release
El Paso Nurses To Hold Medicare for All Rally at Offices of Rep. Will Hurd (TX-23)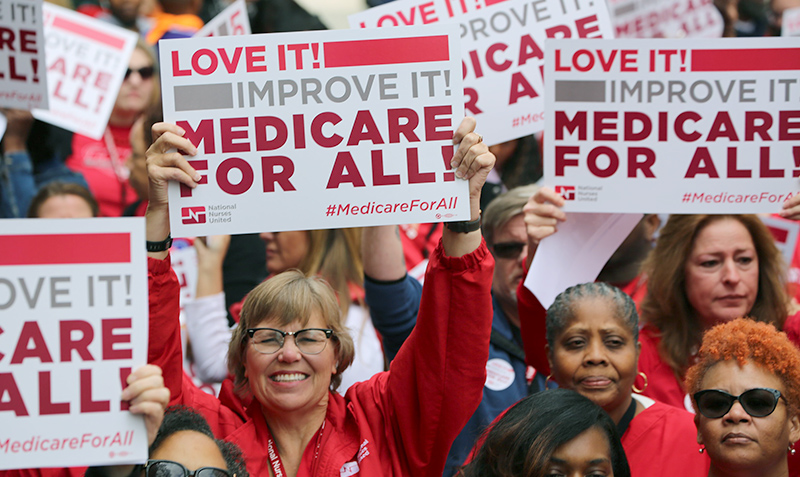 El Paso-area registered nurses will rally Wednesday afternoon to demand Texas Rep. Will Hurd support HR 1384, the Medicare for All Act of 2019, National Nurses Organizing Committee/National Nurses United (NNOC/NNU) announced today.
"Texas nurses are tired of watching our patients suffer and die needlessly, simply due to inability to pay. Medicare for All—guaranteed health care as a human right—is the only moral, just solution. This is a bipartisan issue, and we expect Representative Hurd to sign on to the Medicare for All Act of 2019, because it will save his constituents' lives," said El Paso-area RN Susana Quintana.
What: Nurses Hold Medicare for All Rally at Offices of Rep. Will Hurd 
When: Wednesday, May 8, 12:30 p.m.
Where: 124 South Horizon, Socorro, TX 79927
Rep. Hurd serves on the Congressional Caucus on Diabetes. Nurses say this makes his support for Medicare for All even more critical, given that patients' lives are in jeopardy when they can't afford their insulin.
"Medicare for All doesn't just cover comprehensive care at no cost, it also covers prescription medication. Our patients shouldn't have to struggle so hard to afford lifesaving drugs—including insulin. They shouldn't have to ration their medication because they have to pay rent—or even go without it, which can lead to death. As a legislator on the Congressional Caucus on Diabetes, Rep. Hurd has a moral obligation to sign on to HR 1384," said Quintana. 
National Nurses United is the largest union of registered nurses in the United States, with over 150,000 members nationwide.
The Medicare For All Act of 2019 is endorsed by: National Nurses United, Physicians for a National Health Program, Social Security Works, Center for Popular Democracy, Public Citizen, Labor Campaign for Single Payer, AIDS Healthcare Foundation, Amalgamated Transit Union, American Federation of Teachers, American Medical Students Association, American Postal Workers Union, Association of Flight Attendants, Brotherhood of Maintenance of Way Employees, Business Initiative for Health Policy, Center for Popular Democracy Action, Coalition of Labor Union Women, Credo Action, Daily Kos, Debs-Jones-Douglass Institute, Democracy for America, Democratic Socialists of America, Demos, Faith in Healthcare, Health Care Now, Indivisible, International Alliance of Theatrical Stage Employees, International Association of Machinists & Aerospace Workers, International Federation of Professional and Technical Engineers, Just Care USA, MoveOn, National Center for Lesbian Rights, National Economic and Social Rights Initiative, National Health Care for the Homeless Council, National Immigration Law Center, National Union of Healthcare Workers, New York State Nurses Association, Other98, Our Revolution, Progressive Democrats of America, People Demanding Action, People's Action, People's Action Institute, Service Employees International Union, Ultraviolet Action, Unitarian Universalist Association, United Electrical Radio and Machine Workers, Women's March Inc, Working Hero Action.