Press Release
East Bay, Vallejo Sutter Nurses to Strike Nov. 1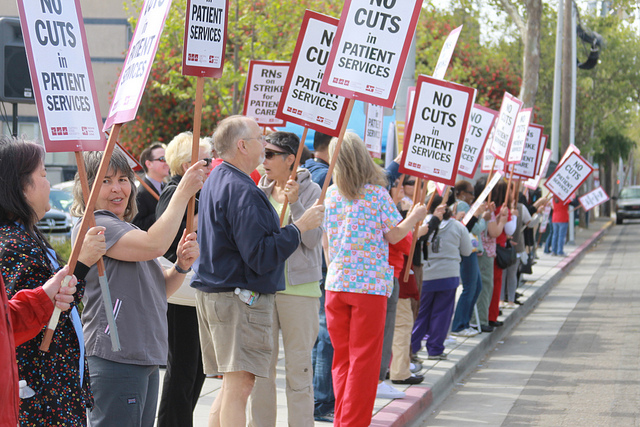 CNA Press Release
10/22/2012
One Day Walkout at Alameda, Contra Costa, Solano Hospitals
With little movement from Sutter corporate officials on their demands for sweeping reductions in patient care protections and nurses contract standards, registered nurses at Sutter hospitals in Alameda, Contra Costa, and Solano counties will hold a one-day strike on Thursday, November 1, the California Nurses Association/National Nurses United said today.

"Sutter needs to respect the nurses' right to be advocates for their patients. We must be able to care for our patients without having our professional standards eroded.  That is what this contract fight is all about," said Elena Ballard an RN at Eden Medical Center in Castro Valley.

Nurses will emphasize a sharp contrast with hospital officials at Sutter hospitals in San Mateo, Sonoma, and Lake counties and in the Sacramento region who have elected to end their attack on nurses by withdrawing concession demands, which led almost immediately to new contracts at those hospitals.

The November 1 walkout will affect Alta Bates Summit Medical Center facilities in Berkeley and Oakland, San Leandro Hospital, Sutter Delta in Antioch, Sutter Solano in Vallejo, and Eden. The strike will involve about 3,200 RNs as well as several hundred respiratory, X-ray and other technicians.

"We have been in negotiations going on 18 months and during this time hospital management has repeatedly misrepresented us as nurses and has shown a lack of respect for the hard working women and men who are the backbone of our hospital," said Ann Gaebler, an Alta Bates RN.  "As staff nurses, we have a responsibility to fight to maintain standards of care for our patients.  We cannot allow the erosion to patient care that Sutter's proposed takeaways would represent."

Sutter continues to insist on more than 100 unwarranted reductions such as eliminating paid sick leave which would effectively force RNs to work when ill, dangerously exposing patients with compromised immune systems to further infection, as well as huge increases in nurses' out of pocket costs for their own health coverage.

"Sutter has refused to bargain with any seriousness with its registered nurses and has continued to put patient care in jeopardy by implementing proposals that have forced us to go on strike again in our fight to maintain our professional standards and conditions for safe patient care." said Sutter Delta RN Melissa Thompson.

By contrast, hospital officials at Sutter's Mills-Peninsula Health Services in San Mateo County stepped away from a battle with nurses local hospital officials when decided last month to withdraw more than three dozen substantial reductions in patient care protections and nurses' economic and contract standards, as well as provide improvements in safe staffing.

Earlier, nurses reached agreements with Sutter Santa Rosa, Sutter Lakeside in Lakeport, and Sutter VNA of Santa Cruz, as well as Sutter Roseville and Sutter Auburn Faith, all reminders that agreements based on good faith negotiations and fair contracts are within reach.

Sutter hardly needs to be demanding harmful cuts in patient services or punitive reductions in nurses' standards. It is one of top 10 wealthiest hospital chains in the U.S., rolling up nearly $4.2 billion in profits since 2005. Sutter pays 28 top executives more than $1 million in compensation, an aggregate $46.7 million, by far the most lavish spending on executives among all California hospital systems.

As another sign of its expansive wealth, and spending away from the bedside, Sutter is presently building a massive new, 300,000 square foot administrative office center in Roseville.

Concession demands at various Sutter hospitals (partial list):

•    Eliminating paid sick leave, effectively forcing nurses to work when ill, exposing already frail and vulnerable patients to further infection.
•    Forcing RNs to work in hospital areas for which they do not have appropriate clinical expertise, again a safety risk for patients.
•    Huge increases in nurses' out-of-pocket costs for health coverage for themselves and family members.
•    Limits on the ability of charge nurses, who make clinical assignments for nurses, to address staffing shortages, subjecting patients to the danger of unsafe staffing.
•    Forcing RNs to work overtime, exposing patients to care from fatigued nurses who are more prone to making medical errors.
•    Cutting the rest time between shifts to 6 hours, an unsafe precedent for patients and the hospital workforce.
•    Eliminating all health coverage for nurses who work less than 30 hours per week and slashing the pay in lieu of benefits for all non-benefited nurses.
•    Reduced pregnancy and family medical leave, undermining RN families.