Press Release
Doctors Sarasota RNs Vote by 64% to Join NNOC-Florida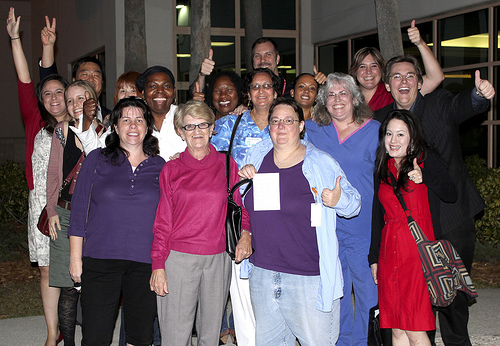 For Immediate Release
March 8, 2011

Nation's Largest RN Union Now Represents 13 Florida Hospitals

By a margin of 64 percent, registered nurses at Doctors Hospital of Sarasota voted Monday night to become the newest members of the rapidly growing Florida affiliate of the nation's largest union and professional association of RNs, National Nurses United.

In an election conducted by the National Labor Relations Board, Doctors Hospital of Sarasota RNs voted by 91 to 52 to join the National Nurses Organizing Committee-Florida, NNU's Florida affiliate. NNOC-Florida will represent about 200 RNs at Doctors.

NNOC-Florida now represents more than 5,000 Florida RNs in 13 hospitals around the state. Ten of the hospitals, including Doctors Hospital of Sarasota, are a part of Nashville-based HCA (Hospital Corporation of America), the biggest U.S. hospital system.

Nationally, NNU represents 8,000 HCA RNs at 20 HCA hospitals in Texas, Nevada, Missouri, Kansas, and California as well as Florida.   

The election at Sarasota also follows a wave of NNOC-Florida election wins late last year at other HCA hospitals in Florida. The HCA RNs met last week in Tampa to begin negotiations with HCA on a collective bargaining agreement.

"We voted to improve quality of patient care," said Doctors RN Geneice Hunt. "Collectively, my colleagues and I are making a clear statement that it is time for our voices to be heard and respected.  We won the right to collectively bargain and we intend to bargain in good faith for contract guarantees."

"We are excited to join other RN colleagues who have started bargaining already to improve quality of care and raise standards to recruit and retain experienced RNs," said Doctors Sarasota RN Dawn Edwards. "The RNs at Doctors are thrilled to join the national movement of RNs to improve quality of patient care."  
 
National Nurses United is the nation's largest union and professional association of registered nurses with 160,000 members from coast to coast.