Press Release
DC Council Health Committee Hearing Friday on Safe Patient Staffing Bill for DC Hospitals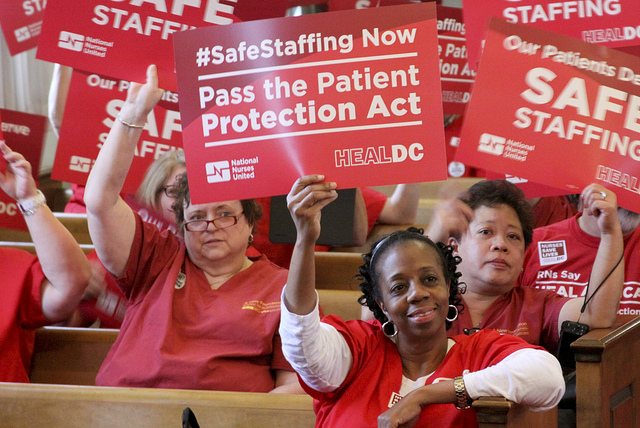 Washington Nurses Press Case for Stepped up Patient Safety
The Health Committee of the District of Columbia City Council will hold a hearing Friday on proposed legislation to require safer staffing for patients in District of Columbia hospitals.
DC nurses and community leaders will be on hand urging the Council to act on a bill, the Patient Protection Act, introduced earlier this year by DC Council Chairman Phil Mendelson with 10 of the 13 council members as co-sponsors.
What: DC Council Health Committee Hearing the Patient Protection Act
When: Friday, November 8, 11 a.m.
Where: John A. Wilson Building, Room 500 - 1350 Pennsylvania Avenue, N.W., Washington, DC 
The bill would set specific limits on the number of patients RNs can care for (nurse-to-patient ratios), with additional staffing required based on individual need, like limits on class sizes or minimum standards for clean air and water.
It is modeled after a highly successful California law that since its implementation nine years ago has saved thousands of patient lives, promoted improved overall quality of care, and helped keep the state's most experienced nurses at the bedside.
Forty-five community and labor organizations have endorsed the legislation. In addition, 43 community faith leaders have announced support for the bill and urged the Council to pass it.
The bill was prompted in part by a survey of DC area nurses last fall which found 57 percent of DC nurses say staffing is inadequate always or almost always and 87 percent say mandatory nurse-to-patient ratios, such as those in California, are needed in DC.
###