Press Release
D.C. Catholic Leaders and Organizations Call for Providence Hospital to Stay Open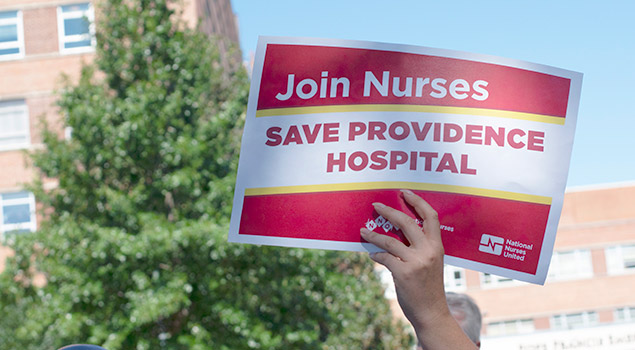 A group of Catholic leaders and organizations from the District of Columbia came together today to issue "A Call to Keep Providence Hospital Open." Among those joining the powerful statement citing the needs of the community and the obligation of Ascension Health to stop plans to close Providence Hospital were Father Patrick Smith, pastor of St. Augustine Catholic Church, Sister Patty Chappell and Sister Anne-Louise Nadeau of Pax Christi USA, Father Kevin Thompson of the Shrine of the Sacred Heart, and several Catholic orders and organizations, including Carmelite Sisters of Charity, Vedruna; Catholic Scholars for Worker Justice; Conference of Major Superiors of Men; Discalced Carmelite Friars; Divine Word Missionaries; Franciscan Action Network; Franciscan Sisters of Our Lady of Perpetual Help; Justice, Peace and Integrity of Creation O.S.F.; Pax Christi USA; and Sisters of St. Francis of Penance and Christian Charity.
In their powerful statement, the Catholic leaders wrote:
"We ask that you stand with us, and the thousands of registered nurses, doctors, hospital workers, social justice advocates and community members who have similarly spoken out, to keep Providence Hospital open as a fully functioning hospital with acute-care services because, as Pope Francis said, 'Health care is not a consumer good, but a human right, and access to health care cannot be a privilege.'"
The letter called on Ascension Health, the huge Catholic hospital corporation that runs Providence Hospital, to fulfill its claimed mission and the Ethical and Religious Directives for Catholic Health Care Services that oblige it to "distinguish itself by service to and advocacy for those people whose social condition put them at the margins of our society."
The letter cited the importance of the hospital in serving primarily the eastern half of the nation's capital and the impact its closure would have on the health of thousands of struggling Washington, D.C. residents, and detailed tremendous health care disparities in the District of Columbia, including maternal and infant mortality.
"Should Ascension prevail in its efforts to close Providence Hospital, Ascension would be abandoning its core mission as a Catholic health care provider. This is unacceptable and will exacerbate the health problems of low-income residents, people of color and the elderly in the nation's capital."
Registered nurses hailed the letter and renewed the call to keep the hospital open.
"Nurses appreciate this powerful statement from Catholic leaders and organizations about the need to keep Providence Hospital open," said Elissa Curry, a registered nurse at Providence Hospital. "If Providence closes, it will leave the eastern half of D.C. as a virtual health care desert."
"Ascension must act immediately to keep Providence open," she continued.  "Providence serves the care needs of poor, working class and elderly people who will suffer if it closes. The D.C. State Health Planning and Development Agency (SHPDA) must act now to keep Providence Hospital open for the sake of all our patients and our community."
Recently the District of Columbia Council unanimously passed emergency legislation giving the Mayor and SHPDA the power to keep the hospital.
The full statement can be found here: https://www.nationalnursesunited.org/call-keep-providence-hospital-open