Press Release
On Day of Upcoming Supreme Court Ruling on Public Unions and Workers Rights, "Janus v. AFSCME," Registered Nurses Will Hold Press Conferences at Medical Facilities Across California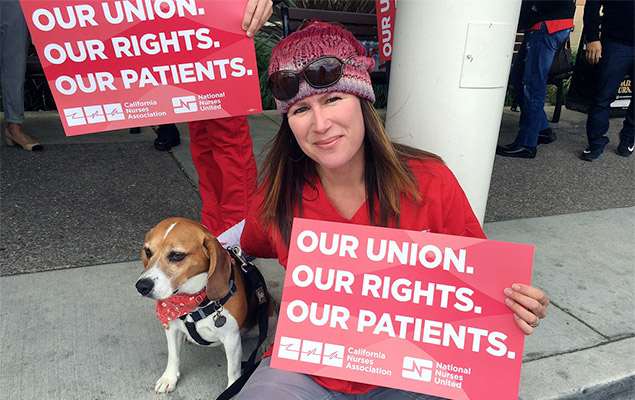 On the day of the upcoming ruling by the Supreme Court affecting public sector unions and workers, in the case of Janus v. AFSCME, the California Nurses Association/National Nurses United and public sector registered nurses will hold press conferences at medical facilities across California to discuss the impact of the decision.
NNU has warned that the decision by the pro-corporate majority on the Supreme Court may severely jeopardize the ability of nurses who work in public sector settings to advocate for safe patient care.
Press conferences will be held in Northern California in San Francisco and Sacramento, and in Southern California in Los Angeles, San Bernardino, and San Diego (times and locations below).
Day of press conferences, all in front of the following hospitals at 12:00 noon:
Northern California
San Francisco – UCSF Medical Center, 505 Parnassus Ave.
Sacramento – UC Davis Medical Center, 2315 Stockton Blvd.
Southern California
Los Angeles – UCLA Medical Center – 757 Westwood Plaza.
Colton (San Bernardino County)

– Arrowhead Regional Medical Center, 400 North Pepper Ave., Colton, 12 noon.
San Diego – UC San Diego Medical Center - Hillcrest, 200 West Arbor Drive.
The California Nurses Association has 100,000 members and is affiliated with National Nurses United, the largest and fastest growing union of registered nurses in the US with more than 150,000 members nationwide.  CNA/NNU plays a leadership role in safeguarding the health and safety of RNs and their patients and has won landmark legislation in the areas of staffing, safe patient handling, infectious disease and workplace violence prevention.