Press Release
Cook County Budget Decision Creates Chaos at Provident Hospital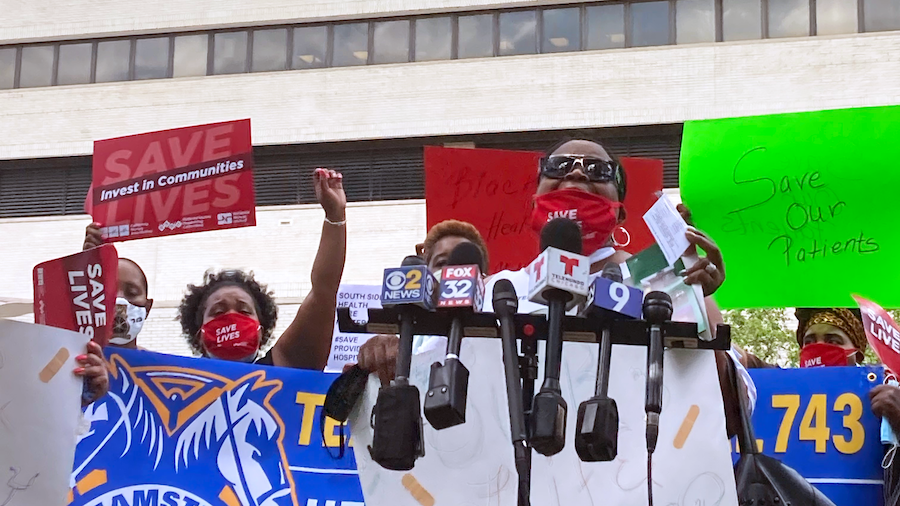 Health care unions and community leaders speak out against dire conditions created by budget cuts
CHICAGO, IL – The Cook County Health budget for 2021 was approved unanimously by commissioners in late November, calling for cuts to emergency care services at Provident Hospital and closing community health clinics on Chicago's South Side. As a result, the layoffs targeting nurses and physicians at Provident Hospital leave the emergency room dangerously understaffed for surrounded communities.
"After five of my colleagues were transferred to other facilities, I knew care at the Provident emergency room would be compromised," said Joyce Ball, RN, Provident nurse. "To add insult to injury, the same nurses who were laid off are now being called at all hours to return to work, and nurses from other area hospitals are asked to cover for positions that have been terminated. This puts us in a position to be intentionally, chronically understaffed, and unable to attend to the real emergencies that arrive at our door."
On Friday, Dec. 4, only two nurses were present in the entire hospital. This week, after nurses raised the issue, Cook County Provident administration cancelled the standing staffing meeting in which nurses are invited to discuss staffing plans and concerns. The Provident Hospital ER saw more than 28,000 visitors in 2019, and there is little reason to believe that those numbers will decline in the midst of the Covid-19 pandemic.
What: Rally and media availability
Where: Provident Hospital, 500 E. 51st St, Chicago, IL 60615
When: Thursday, December 10th, 2020 at 11:00 a.m.
Who: Kenwood-Oakland Community Organization, National Nurses United, Service Employees International Union (SEIU) Local 73, SEIU Healthcare, Teamsters Local 743