Press Release
Contra Costa County Nurses Ratify New Three-Year Contract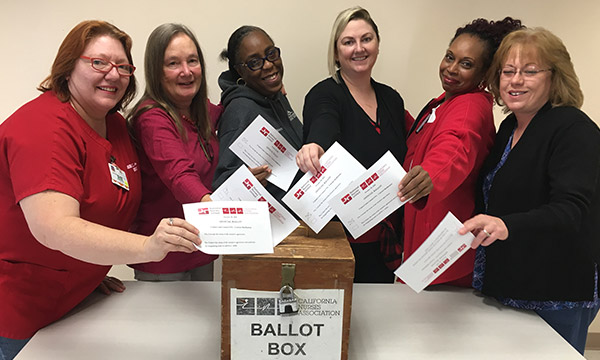 Contra Costa County registered nurses (RNs), nurse practitioners (NPs) and public health nurses (PHNs) voted overwhelmingly to ratify a new three-year contract that supports patient safety, safe staffing, and overall better working conditions at Contra Costa County, the California Nurses Association announced today.
 
"We are thrilled that our nurses stood strong to win this important agreement that strengthens care conditions for our patients, who are some of the most vulnerable patients in Contra Costa County," said Kathleen Sullivan, a public health nurse with the County for 11 years, noting that with the 2015 closure of Doctors Medical Center in San Pablo, Contra Costa County Medical Center has become the main care source for the local community. "It's also a big win for nurse working conditions and the ability to retain the experienced staff our patients deserve."
 
Nurses, who held an informational picket on September 15 and have been bargaining for 10 months, say they are proud of the contract features, which include:
Economic gains to help with recruitment and retention: According to nurses, wage increases of 20 percent total over the term of the agreement will help to stop the loss of qualified nurses and nurse practitioners—given that al­most 300 RNs and NPs left Contra Costa County for other hospitals in the past two years.

"It's critical that we have economic parity with surrounding hospitals so that we are able to recruit and retain experienced nurses to care for our patients," said Kati Johnson, a nursery RN who has been with the County for 11 years.
 
Protected healthcare and retirement: The agreement includes no reductions in healthcare and retirement benefits —which is important, nurses say, because these, in conjunction with the economic improvements, help retain experienced nurses.
 
Safe staffing provisions—including protections from "floating" nurses outside their typical unit, a practice which nurses say puts patients at risk.
 
Improved Professional Practice Committee (PPC) language, strengthening a committee of elected bedside nurses to track staffing, health and safety, and nursing practice issues, all of which lead to improved advocacy for patients.
 
Enhanced workplace violence protection language: Healthcare workers face extremely high rates of workplace violence, and when nurses are at risk, patients, families and visitors are also at risk. That's why Contra Costa County RNs highlight the importance of enhanced language around workplace violence protections, stating that, in line with a California law fought for and won by CNA, employers must have a workplace violence prevention plan in place.
"We are so proud of our nurses for coming together to win this important agreement, which will benefit our patients and our colleagues for years to come," said Kathy Avila, a critical care RN with the County for 19 years. "With attacks on unions, including the recent Janus supreme court case attempting to undermine public sector union workers like us, it's vindicating to see nurses standing union strong for our patients. Our collective voice and strong contracts like this one are what keep our patients safe."
The contract will run through September 30, 2021.