Press Release
Concord nurses to hold informational picket about staffing crisis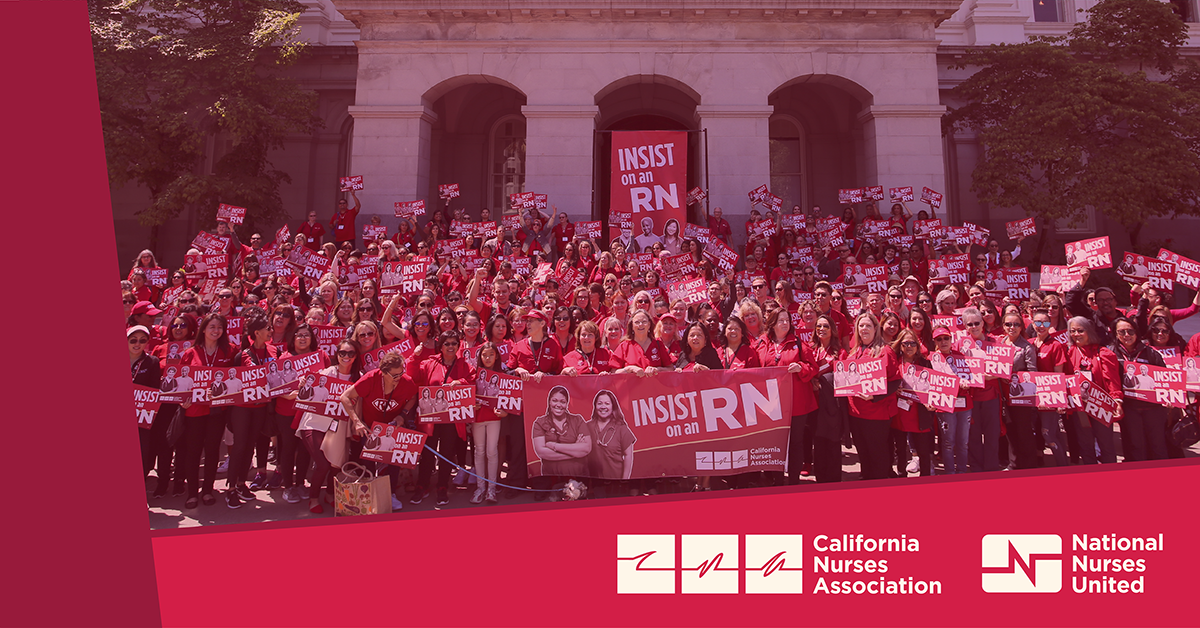 Nurses from John Muir Behavioral Health Center will hold an informational picket Jan. 24.
Registered nurses at the John Muir Behavioral Health Center in Concord, Calif., will hold an informational picket on Tuesday, Jan. 24, to raise awareness of chronic understaffing and high turnover rates at the hospital, announced California Nurses Association/National Nurses United (CNA/NNU) today.
RNs demand that John Muir Health (JMH) step up their efforts to recruit and retain more nurses, ensure adequate training for all nurses, and provide appropriate meal and rest break relief to current nurses. Staffing must be improved to optimal levels so nurses can provide the highest level of quality patient care and alleviate the moral distress and moral injury that has caused many nurses to leave the facility.
"We are seeing an increase in community need for behavioral health services, especially since the start of the pandemic," said Sara Starr-Cho, RN on the adult care unit. "JMH needs to staff up to meet this increase, so that nurses can care for unique needs of all of our patients."
Who:

Nurses at John Muir Behavior Health Center

What:

Informational picket for safe staffing

When:

Tuesday, Jan. 24, 3:30 p.m. – 4:30 p.m.

Where:

John Muir Behavioral Health Center, 2740 Grant St., Concord, CA, 94520; at the intersection of Grant St. and Fredericks St.
Nurses at the Behavior Health Center are currently in bargaining with John Muir Health for a first contract with protections for safe floating practices, health and safety protections, and improved recruitment and retention. Nurses are calling on JMH to hire more nurses to improve the quality of patient care and to retain their current staff by making sure nursing assignments are safe at all times. And nurses demand John Muir protect patients, nurses, and other health care workers by safely staffing all units on all shifts.
"We know that understaffing is bad for patients and nurses because fatigue and exhaustion increase the risk of workplace injuries and errors," said Karla Casas, a Behavioral Health Adult Care Unit RN. "Many new and experienced nurses have made the difficult choice to leave rather than jeopardizing their patients and their nursing license due to unsafe working conditions. That's why we need a strong contract."
"On night shift, it is common for one nurse to be caring for an assignment of 11 or more patients, when what is safe would be closer to five patients," said Juani Wells, an RN on the Chemical Dependency Unit. "Many of our patients suffer from medical and or psychiatric comorbidities that can make detoxification challenging and dangerous, so patients who are detoxing need particular attention and interventions. As nurses, we want to provide the highest quality of care to all of our patients, but it's unnecessarily difficult when we are intentionally understaffed just so JMH can increase their profits."
During the pandemic year 2021, JMH made a net income of $239 million, compared to $176 million in 2020, according to financial statements available on request. The CEO of JMH was paid $2.5 million in total compensation in 2020. On Jan. 11, 2023, JMH announced their plans to purchase San Ramon Regional Medical Center for $142.5 million. Yet, while JMH is making significant profits, the number of nurses employed at the Behavioral Health Center continues to drop. RNs say that nursing retention issues are due to management's decision to continually short staff, especially while refusing to account for higher numbers of admissions and patients with more acute needs on all shifts.
"Nurses are driven by their compassion to help others. They feel forced away from the bedside when they cannot provide their patients with the quality of care they deserve," said Alatia Jentons, a Behavioral Health Adolescent Care Unit RN. "If JMH addresses the issues that create an unsafe environment at the facility, we will attract and retain the experienced nurses we need. A strong contract is the first step in that direction."
CNA/NNU represents 73 nurses at John Muir Health Behavioral Center.
---
The California Nurses Association/National Nurses United is the largest and fastest-growing union and professional association of registered nurses in the nation with 100,000 members in more than 200 facilities throughout California and nearly 225,000 RNs nationwide.