Press Release
Community Forum February 3 to Save Berkeley's Only Acute Care Hospital: Alta Bates Medical Center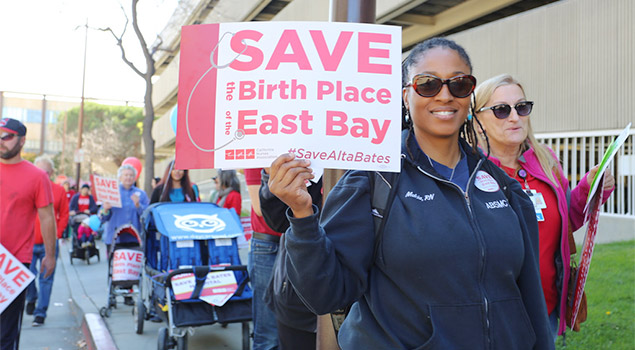 "Sutter thinks they can confuse the community and defuse the campaign to save Alta Bates with their assurances, but they are wrong!"
On Saturday, Feb. 3, nurses and local leaders, including Berkeley Mayor Jesse Arreguín, and other community members will hold a community forum in Berkeley on the campaign to keep Alta Bates Medical Center, Berkeley's sole acute care hospital and birthing center, open.
Nurses today voiced enormous skepticism about Sutter Health's latest promises that "there is no imminent closure of Alta Bates" and that the "campus" is "expected to stay open for another decade." Even in its own statement, Sutter admitted its plan is not to retain Alta Bates as a full service acute care hospital, and that it fully intends to force patients from Berkeley to Vallejo along the densely populated I-80 corridor to travel even farther to Oakland further delaying life-saving emergency treatment. Hospital and emergency care in the region has become even more restricted since the 2015 closure of Doctor's Medical Center in San Pablo.
"Sutter Health has a long track record of promising services when it is politically expedient for them and then withdrawing them. This is what they did in the case of St. Luke's in San Francisco but we waged a community campaign and we stopped them," said Jane Sandoval, CNA boardmember and RN at St. Luke's Hospital. "Sutter thinks they can confuse the community and defuse the campaign to save Alta Bates with their assurances, but they are wrong!"
What: Community Forum to Save Alta Bates Hospital in Berkeley
When: Saturday, Feb. 3, 2018 – 11:00 a.m. - 1:00 p.m.
Where: Ed Roberts Campus, 3075 Adeline St, Berkeley, Calif.
"I'm so excited about the upcoming forum because it gives us a chance to experience firsthand the growing momentum for the campaign to keep Alta Bates open," said Rochelle Pardue-Okimoto, RN and Mayor Pro Tem, El Cerrito. "Together we have the power to protect this vital healthcare resource and make Sutter Health fulfill its non-profit mission by continuing to operate Alta Bates as a fully functioning acute care hospital in Berkeley.
Sutter Health announced in 2016 its intention to close Alta Bates Hospital as early as 2019. Last year, Mayor Jesse Arreguín convened the Alta Bates Regional Task Force to stop the closure. Saturday's community forum is one of several the campaign plans to hold in Alameda and Contra Costa Counties to raise public awareness and expand grassroots organizing to save the hospital.
The forum will feature presentations by:
Rochelle Pardue-Okimoto, RN and Mayor Pro Tem El Cerrito
Dr. Ramona Tascoe, Medical Director, Westside Methadone Treatment Program
Mayor Jesse Arreguin, Berkeley
Mike Wilson, Alta Bates neighbor/Community member
David Brannigan, Berkeley Fire Chief
State Senator Nancy Skinner
Nuha Kalsay, ASUC Berkeley
Andy Katz, Berkeley Health Commission, Board EBMUD
The community forum is co-sponsored by:
The Berkeley Mayor's Office and other East Bay mayors, Councilmembers from Alameda and Contra Costa County, California Nurses Association, Alameda Labor Council, Associated Students of University of California, Berkeley Progressive Alliance, Sierra Club Northern Alameda County Group, Berkeley/North East Bay Chapter of the ACLU of Northern California, Albany Democratic Club, Building Opportunities for Self-Sufficiency (BOSS), Berkeley Organizing Congregations for Action (BOCA), Healthy Black Families Inc., California Research Alliance, Berkeley Citizens Action, Starbucks Coffee, Gio's Pizza and Bocce, Center for Accessible Technology, Bateman Neighborhood Association (BNA), Claremont Elmwood Neighborhood Association (CENA), Berkeley Neighborhood Council (BNC), The Greenlining Institute.
Here are ten reasons why Alta Bates Hospital must remain open:
https://www.nationalnursesunited.org/keep-alta-bates-open
To see more photos from the Stroller Brigade and Rally to Save Alta Bates visit:
https://www.flickr.com/photos/californianurses/albums/72157688895439174