Press Release
Community Briefing Planned April 1 in Santa Cruz on the Healthy California Act SB 562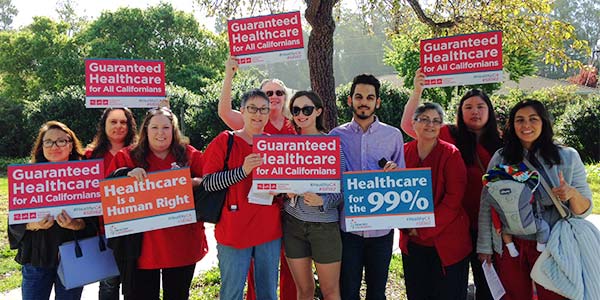 "When we have access to early and preventative care, there are benefits not just to our health, but to our work environment and economy."
The campaign for the Healthy California Act is inviting area residents to a community briefing in Santa Cruz, Calif. on Saturday, April 1 to learn about SB 562, a bill introduced in the California Senate last month that would guarantee healthcare to all Californians by establishing a Medicare for all type system.
What: Community briefing on SB 562, the Healthy California Act
When: Saturday, April 1, 12:30-2:30 p.m.
Where: Louden Nelson Community Ctr., 301 Center Street, Santa Cruz, CA 95060
"We're excited to meet with the community to discuss the benefits of SB 562, the Healthy California Act, and to call for its support by Senator Bill Monning. As a member of the Senate Health Committee, Sen. Monning should champion SB 562 because when we all have access to early and preventative care, including mental health, dental and vision, there are benefits not just to our health, but to our work environment and our economy," said Jennifer Holm, RN.
"How many patients have I taken care of who were in renal failure because they chose to pay rent instead of the glucometer strips needed to monitor their diabetes? How many babies have I held that were born prematurely because their mothers could not afford the copayment for prenatal care?" said Holm. "We can do better than this! Supporting SB562 is not only the ethical responsibility of every resident and legislator of our state--it is the moral imperative of a civilized society."
"Seniors are the biggest users of medical care in the country. We seniors get it. We know Medicare works," said Myron Wollin, a member of the California Alliance for Retired Americans. "The Healthy California Act, SB 562, will improve upon Medicare. We also want what's best for our children and grandchildren. We have had enough of the insurance industry making a profit off of our health."
The California Senate Health Committee is expected to hold the first hearing on SB 562 in April. Advocates have planned a series of town halls and community briefings in districts represented by Senate Health Committee members to educate and mobilize their constituents in support of the bill. Town halls have been held in Covina, Pomona, Riverside and Fullerton.
SB 562 takes on even greater urgency with the lingering uncertainty of healthcare nationally. Californians are standing up to say anything short of a single payer, Medicare For All system does not address the right of all patients to guaranteed, comprehensive healthcare—as a right and not just as a privilege.
Senators Ricardo Lara (D-Bell Gardens), and Toni Atkins (D-San Diego) introduced SB 562 in February; Senators Benjamin Allen, Cathleen Galgiani, Mike McGuire, Nancy Skinner, and Scott Wiener are co-authors. Assembly Members Rob Bonta, David Chiu, Laura Friedman, Ash Kalra, Kevin McCarty, Adrin Nazarian, Mark Stone, and Tony Thurmond are also co-authors of the bill. The California Nurses Association/National Nurses United (CNA/NNU) is the primary sponsor, working with the Healthy California Campaign, comprised of organizations representing over four million Californians.
The bill declares that it is "the intent of the Legislature to enact legislation that would establish a comprehensive universal single-payer health coverage program and a healthcare cost control system for the benefit of all residents of the state."
Read the text of the bill at:
http://leginfo.legislature.ca.gov/faces/billTextClient.xhtml?bill_id=201720180SB562
The town halls and the bill are co-sponsored by numerous organizations including Americans for Democratic Action - Southern California, California Nurses Association, California Alliance of Retired Americans, California Partnership, Campaign for a Healthy California, Clinica Monsenor Oscar A. Romero, Communities for a Better Environment, Consumer Federation of California, Courage Campaign, Health Care for All - California, J. Glynn & Associates, Labor United for Universal Healthcare, National Union of Healthcare Workers, Our Revolution, Physicians for National Health Program - CA, Progressive Democrats of America, Single Payer Now, and UPTE-CWA 9119.