Press Release
CNA/NNOC "The Year of the Nurse" convention gathers nurses across the country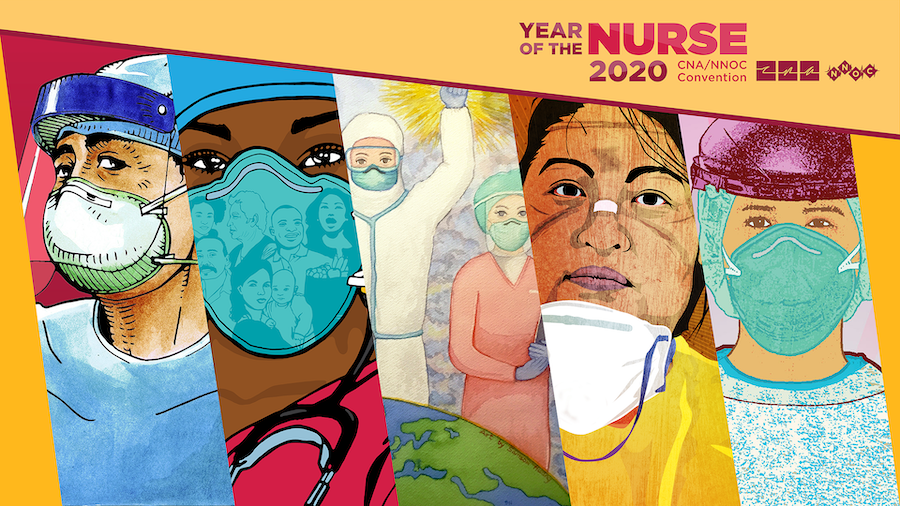 Nurses, labor leaders, and activists from across the country are gathering for the California Nurses Association/National Nurses Organizing Committee (CNA/NNOC) convention being held virtually Sept. 9 to Sept. 12. The event is organized by CNA/NNOC, an affiliate of National Nurses United, the largest union and professional organization of registered nurses in the United States.
The convention takes its name from the World Health Organization, which proclaimed 2020 to be the Year of the Nurse and Midwife. "The Year of the Nurse is living up to its name, as nurses continue to speak truth to power from the front lines of COVID-19," said CNA/NNOC Executive Director Bonnie Castillo, RN. "We are the ones our patients and communities are looking to for leadership and guidance. And as tough of a year as it has been, we are ready to harness our collective values, intelligence, skills, compassion, and commitment to lead the way forward. The convention is our chance to refuel and remember how much we can accomplish when we stand together."
"We are immensely grateful to our nurse allies from around the world for their participation in this year's conference," continued Castillo. "Our health and futures are truly interconnected, and there is so much to learn from our counterparts in South Korea, in Italy, in New Zealand, and in Canada."
Nurses are convening some of the most prominent thinkers and leaders on racism and race, the Movement for Black Lives, and COVID and public health, including figures such as Angela Davis, Ruth Wilson Gilmore, and Thenjiwe McHarris. In addition, noted celebrities, such as Lily Tomlin, Marisa Tomei, and Billy Porter, will be starring in various performances honoring nurses' experiences and struggles during COVID.
Five events will be livestreamed on CNA's Facebook page.
Wed., Sept. 9, 9:30 a.m–11:30  a.m. PT/12:30 p.m–2:30 p.m. ET – Global Solidarity in the Time of COVID-19
Facebook Live link here.
The opening plenary, Global Solidarity in the Time of COVID-19, features Global Nurses United (GNU) leaders from Canada, Italy, Korea, and New Zealand discussing how nurses and activists can work together in communities and across borders to meet immediate health needs and make the transformative changes needed to prevent future crisis. They are Linda Silas, president, Canadian Federation of Nurses Unions; Andrea Bottega, national secretary, NurSIND, Italy; Na Soon-ja, president, Korean Health and Medical Workers Union; and Kerri Nuku, Kaiwhakahaere (director), Toputanga Tapuhi Kaitiaki o Aotearoa, New Zealand Nurses Organisation. GNU is a federation of nurse and health care worker unions in 29 nations.
Wed., Sept. 9, 6 p.m.–8 p.m. PT/9 p.m.–11 p.m. ET –  That Kindness: A play from and for nurses
Facebook Live link here.
The first evening's entertainment features a performance of That Kindness: A play from and for nurses by Tony Award-winning playwright, performer, and activist V (formerly Eve Ensler) with help from James Lecesne. The play is based on stories and interviews with CNA/NNOC/NNU frontline nurses and features the following actors depicting registered nurses' struggles and triumphs during the pandemic: Ed Blunt, Connie Britton, La Chanze, Rosario Dawson, Stephanie A. Hsu, Liz Mikel, Rosie O'Donnell, Billy Porter, Dale Soules, Marisa Tomei, and Monique Wilson. The performance concludes with a song by Morley.
Thurs., Sept. 10, 6 p.m.–7:40 p.m. PT/9 p.m.–10:40 p.m. ET – The People Speak
Facebook Live link here.
The People Speak is a set of dramatic readings of selected testimonies—speeches, letters, poems, petitions, and manifestos—of people throughout U.S. history who struggled for workers' rights and against slavery, racism, war, oppression, and exploitation, and who articulated a vision for a better world. The readings will be performed by Bluebiird (Emily Osment), Staceyann Chin, Megalyn Echikunwoke, Jesse Eisenberg, Diane Guerrero, Ben Harper, Simone Missick, Kendrick Sampson, Wallace Shawn, Lily Tomlin, and Jesse Williams.
Fri, Sept. 11, 9:30 a.m.–10:30 a.m. PT/12:30 p.m–1:30 p.m. ET – Freedom Now! Racial Justice and Solidarity in Our Times
Facebook Live link here.
In this plenary, leading thinkers and activists will discuss how movements against racism and inequality can seize the time and wage powerful struggles for democracy and freedom for all people. The panelists are Angela Y. Davis, activist, philosopher, and author; Ruth Wilson Gilmore, activist and scholar, CUNY; and Thenjiwe McHarris, leader and strategist, Movement for Black Lives.
Fri, Sept. 11, 6 p.m.–8 p.m. PT/9 p.m.–11 p.m. ET – Honoring Fallen Nurses
Facebook Live link here.
CNA/NNOC nurse leaders will host a candlelight vigil to honor the more than 200 nurses who have lost their lives to COVID-19 while fighting for the safe care of their patients. Hundreds of nurses are expected to attend and show solidarity with their colleagues and to honor fallen nurses. "We are gathering to remember and honor the lives of nurses who were deeply committed to their patients," said Zenei Cortez, RN, president of CNA/NNOC. "Tragically, the health care industry and the federal government have failed nurses. Instead of protecting RNs, they are actually endangering nurses and other health care workers who are essential in mitigating the spread of this virus. We mourn the nurses who have died and we will not give up the fight to keep all nurses safe."