Press Release
CNA Statement on Sale of Daughters of Charity Hospitals -- All Hospitals Should Meet Same Criteria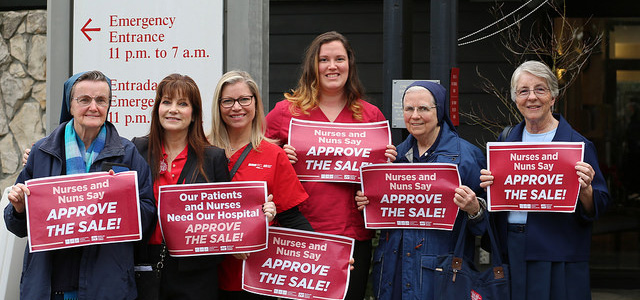 California's largest nurses organization, the California Nurses Association/National Nurses United today issued the following statement on the conditional approval of the sale of six Daughters of Charity Health System (DCHS) hospitals in the Bay Area and Los Angeles that were "on life support," facing imminent bankruptcy, huge reductions in patient services, and closure.
Conditions cited included maintenance of the hospitals and emergency services for ten years, continued participation in Medi-Cal and Medicare programs and reproductive health care services, provision of charity care and community benefit programs at historic levels, a guarantee for all pension obligations for current and retired employees, meet all seismic safety compliance requirements, and, finally assurance that its debt collection practices do not violate federal and state laws and regulations.
"While we haven't reviewed the entire document, based on the provisions cited in the  Attorney General's statement, we would hope that Prime will comply with these conditions which will keep the hospitals open just as nurses, nuns, patients and community residents have rallied to achieve," said CNA Executive Director RoseAnn DeMoro.
"Further we urge the Attorney General to call on all California hospitals to meet the same standards, and for the California Hospital Association to embrace these standards and insist that all of its member hospitals meet the same criteria," DeMoro said.