Press Release
CNA Endorses Rochelle Pardue-Okimoto for 15th Assembly District Seat in 2018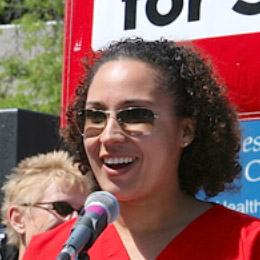 California Nurses Association (CNA) announced today it has endorsed Rochelle Pardue-Okimoto RN, for the Assembly District 15 seat in 2018.
Pardue-Okimoto is a registered nurse in the Neonatal Intensive Care Unit at Alta Bates Summit Medical Center and an active member of CNA, which represents 100,000 RNs in California.
"I am honored to receive the endorsement of my sisters and brothers at CNA," said Pardue-Okimoto. "It was on the picket line that I found my voice and realized that speaking truth to power can't end at our rallies - we have to take it to the state capitol and beyond."
"Rochelle has a terrific track record of activism within and on behalf of her union and a strong history of advocating for nurse's values, including the campaign for the Healthy California Act SB 562," said CNA Co-President Malinda Markowitz.
Pardue-Okimoto currently serves on the El Cerrito City Council and was elected earlier this year as a 15th Assembly District Delegate to the California Democratic Party. While serving as Vice-Chair of the Human Relations Commission in El Cerrito she initiated the Loving Project, which continues to raise awareness and celebrate the Supreme Court decision legalizing interracial marriage, 'Loving vs. Virginia,' through various activities including "Loving Day," in El Cerrito. While on the commission she was also the prime mover behind the "Not in Our Town" campaign in response to a hate crime in El Cerrito.
Pardue-Okimoto has regularly represented CNA in organizing for social justice and expanded health care services in the region.  In 2012 she was a lead speaker at the massive SF Occupy Protest at Wells Fargo, and represented the union at the October 2015 meeting of the Alameda Commission on Racial and Economic Justice. In 2016 she introduced Sen. Bernie Sanders at his singlepayer press event in Emeryville.
In her campaign, Pardue-Okimoto brings her first-hand experience as a nurse to protecting and expanding health care in the East Bay, especially to the region's most vulnerable patients. She is a frequent speaker at the Contra Costa County Board of Supervisors' meetings protesting the County's continued investment in jail expansion and advocating that funds be used instead to expand healthcare, children's and recreational services. With the closure of Doctors Medical Center she has urged the Board to address the acute scarcity of healthcare services to residents living in the shadow of the accident-prone Chevron Oil Refinery in West Contra County.
Pardue-Okiomoto is also active in the campaign to stop Sutter Health from closing Alta Bates, Berkeley's only acute care hospital, causing a drastic reduction in the region's already depleted emergency and acute care services. In 2016 she brought forward the resolution, passed unanimously by El Cerrito City Council, to oppose closure of Alta Bates.
"Saving Alta Bates Hospital is a top priority for my campaign. If they close Alta Bates, Assembly District 15 we will no longer have any maternity services, effectively leaving us in a hospital desert." said Pardue-Okimoto.
"We're thrilled to support Rochelle as she takes her advocacy experience to the state Capitol to realize the vision of our 'Vote Nurses Values' platform which includes guaranteed health care for all, a healthy environment, good housing, a just taxation system, jobs at living wages, equal access to quality public education and a secure retirement," said Markowitz.
The California Nurses Association is affiliated with National Nurses United, the largest and fastest growing union of RNs in the nation. CNA/NNU has won landmark health and safety protections for nurses and patients in the areas of staffing, safe patient handling, infectious disease and workplace violence protection.