Press Release
CNA on Bankruptcy of Verity Health Care: Potential Buyer(s) Must Keep Hospitals Open, Retain Current Patient Services and Honor Collective Bargaining Rights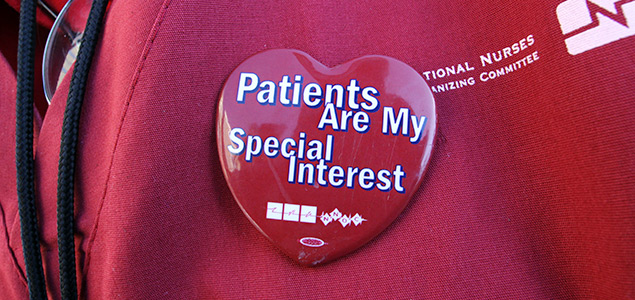 In response to the announcement that Verity Health Care System (Verity) is filing Chapter 11 bankruptcy, the California Nurses Association (CNA) is calling on any or all prospective buyers of the hospital chain to keep open all six hospitals, retain current patient services, and honor the collective bargaining rights and current standards for Verity employees.
 
Registered nurses say it is imperative that these hospitals remain open to provide the essential patient care services on which their communities depend. Verity runs O'Connor Hospital in San Jose, St. Louise Regional Hospital in Gilroy, Seton Medical Center in Daly City, Seton Coastside in Moss Beach, St. Francis Medical Center in Lynwood and St. Vincent Medical Center in Los Angeles.
 
CNA seeks to meet with any prospective buyers of the Verity hospitals as soon as they are identified to address the core principles adopted by the nurses when they first learned of the transfer of control of the hospitals from Daughters of the Charity Health System in 2015. CNA represents 1,500 registered nurses working at four hospitals, in both Southern and Northern California.
Core principles defined by the registered nurses include:
Continued operation of the hospitals
Maintaining existing patient services and not taking actions that put those services at risk
Preserving existing jobs, collective bargaining rights and current labor standards
Upholding pension promises made to current and future retirees
In addition, the nurses insist that any future buyer or buyers be held to the same conditions imposed by the former California attorney general in 2015 when control of the hospital chain was transferred to BlueMountain Capital Management. The attorney general imposed the conditions "to ensure the continuity of essential health care services for vulnerable communities at the six health facilities." Those conditions currently remain in place.
Those conditions include:
St. Francis, O'Connor, Saint Louise, and Seton Medical Center must operate as acute-care hospitals and offer emergency services until 2025. 
St. Vincent must operate as a general acute-care hospital, providing 24-hour emergency medical services and a minimum of eight emergency treatment stations and six Fast Track treatment stations until 2020.
The six facilities must provide the same types and/or level of emergency and non-emergency medical services to Medi-Cal beneficiaries and maintain Medi-Cal managed care contracts at each of the facilities. 
Charity care for needy patients and community benefits must be provided at historical levels. 
Substantially all of the 7,000 jobs at the health facilities will continue with comparable salaries, wages, and job duties.
Nurses at Verity hospitals say they are watching closely to ensure that the transition of control of the hospitals is in line with the nurses' core principles.
 
"We are a safety-net hospital for a community that is medically underserved," said Sharon Ehrlich, RN, who has worked at O'Connor Hospital in San Jose for 22 years. "We provide vital health care services, including emergency services, cardiac care, and we are home to a stroke center that is very important for the San Jose area. We need a buyer who will financially stabilize the hospital and recommit to caring for those who are in need."
 
"I have been a nurse at St. Vincent Medical Center in Los Angeles for 12 years," said Christine Chung, RN. "We work with low-income families, the homeless, and immigrant community members. Many of our patients would have nowhere to go for care if our hospital closed. We nurses want to see that this hospital keeps its doors open and whoever takes control of the facility keeps the promises the hospital made to the workers and the community to provide care to low-income families in the LA area."
 
"We service a large area from San Jose to Salinas and all the way out to Hollister," said Bill McNamara, RN, who has worked at St. Louise Regional in Gilroy for more than two decades. "The nearest emergency room is 35 minutes away and if this hospital closes, people will die. We serve a critical need in south Santa Clara County."
 
"I have been a nurse for 34 years and I am committed to continuing to serve my community," said Debra Armour, RN who works at Seton Medical Center in Daly City. "My expectation is that a new buyer will honor our contract and the pension obligations to retain the health care workers who have committed themselves to our community for all these years."