Press Release
Clean Sweep - Kindred Hospital, Baldwin Park Workers Join RNs in Voting for Caregivers Union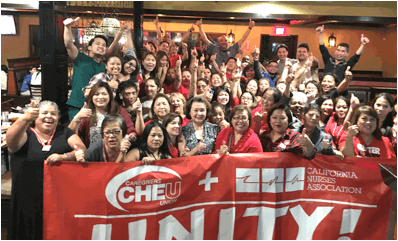 Hospital workers at Kindred Hospital-Baldwin Park Wednesday night voted by 91 percent to unionize with the Caregivers and Healthcare Employees Union (CHEU), an affiliate of the California Nurses Association.
With the secret ballot vote, the CHEU members joined Kindred's registered nurses who voted just last week by 90 percent to become members of CNA. Some 200 Kindred workers will be represented by CHEU/CNA, along with 100 RNs who will be members of CNA.
Licensed vocational nurses, monitor techs/unit secretaries, certified nursing assistants, respiratory therapists, environmental service workers, and other technical and service workers, are among the employees who will now be represented by CHEU.
"We are excited to have won our election with CHEU and are looking forward to working together with Kindred Baldwin Park RNs, who just won their election with CNA last week, to negotiate contracts that improve working conditions for all employees," said Paolo Tolentino, a licensed vocational nurse at Kindred Baldwin Park.
Incoming CHEU members voted for unionization for many of the same reasons that inspired the RNs to vote for CNA, including improving wages, reducing excessive work assignments, and improving respect in the work place. 
"It is with great pleasure we congratulate our co-workers on the impressive victory to join CHEU. We know we are stronger when we stand together, our community, our patients and our working conditions will only improve as we negotiate contracts that improve working conditions for all." Alice Sebastian, RN Kindred Baldwin Park