Press Release
Cincinnati VA nurses to hold an informational picket for patient safety and the VA Employee Fairness Act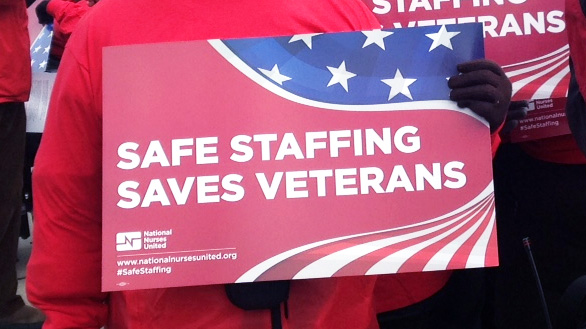 RNs at the Cincinnati VA Medical Center to protest unsafe staffing
Registered nurses at the Cincinnati VA Medical Center in Cincinnati, Ohio, will hold an informational picket tomorrow, Sept. 7, to highlight their patient safety concerns, including dangerous short staffing, announced National Nurses Organizing Committee/National Nurses United (NNOC/NNU) today.
VA nurses also call on Veterans Affairs Secretary Denis McDonough to encourage Congress to pass the VA Employee Fairness Act, which would grant RNs full bargaining rights so that they can improve care at the VA.
"Because of unsafe nurse-to-patient staffing ratios and the lack of sufficient ancillary support, we continue to put the safety of our veteran patients at risk," said Shana Rivera, RN in the ICU unit. "We need to not only hire more RNs, but we also must retain the RNs we already have. They're frustrated, tired, and experiencing moral injury."
Who:

RNs at Cincinnati VA Medical Center

What:

Informational picket against dangerous short staffing and for patient safety

When:

Wednesday, Sept. 7, 11:30 a.m.to 1 p.m.

Where:

Cincinnati VA Medical Center, 3200 Vine Street, Cincinnati, OH, near Cincinnati Zoo parking Lot.
Nurses will be available to speak with media at the event.
"Passing the VA Employee Fairness Act will enable NNU to bargain over staffing issues, among other things, for better outcomes for our RNs and veterans," said Rivera.
"For months, RNs have been filling out documentation when staffing is so inadequate that it is unsafe for patients and nurses," said Timothy Puckett, an RN in the medical-surgical unit. "We need the Cincinnati VA to take a more proactive role to solve the staffing crisis. We do not want to put our nursing license at risk."
NNOC represents more than 600 registered nurses at the Cincinnati VA.
National Nurses Organizing Committee is an affiliate of National Nurses United, the largest and fastest-growing union and professional association of registered nurses in the United States with more than 175,000 members nationwide.