Press Release
Chinese Hospital, San Francisco RNs to Strike May 25, Warn Substandard Conditions Driving Away RNs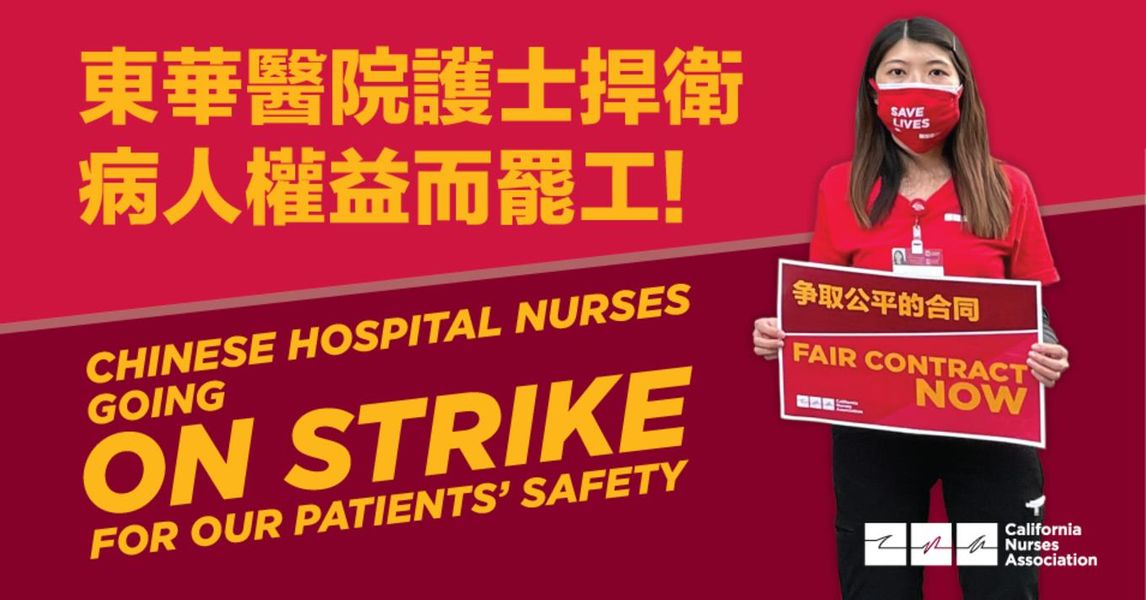 Registered nurses at Chinese Hospital in San Francisco will hold a one-day strike Tuesday, May 25 to protest substandard workplace and economic conditions that nurses say has driven experienced nurses away and undermines the hospital's ability to recruit new RNs.
Located in the heart of San Francisco's Chinatown, this is the only Chinese hospital in the U.S. and is a critical resource for the city's large Chinese community.
Chinese Hospital RNs voted to join California Nurses Association/National Nurses United in August 2019. CNA represents more than 100 RNs at the facility. They have been in negotiations for their first collective bargaining contract since February 2020.
"For the past year, we've given Chinese Hospital numerous proposals aimed at improving staffing, patient care, and retention of nurses for our patients and our community," said Sherry Yee, RN. "Instead, the hospital administration has failed to create a better working environment that allows us to provide proper care for our patients to the best of our ability."
What

: Strike by registered nurses at Chinese Hospital in San Francisco

When

: Tuesday, May 25, picketing beginning at 7:30 a.m.

Where

: Chinese Hospital, 845 Jackson Street, San Francisco


Zoom Rally

: 6 p.m. with Chinese Hospital RNs and other guests TBA
         Strike Schedule:
7:30 a.m.-9:30 a.m. – social distancing picketing outside hospital
9:30 a.m. – 10:30 a.m. – social distancing march to Portsmouth Square
2 p.m.- 4 p.m. – social distancing picketing outside the hospital
6 p.m. – zoom rally
To attend the Zoom rally, please email press@nationalnursesunited.org.
"Chinese Hospital RNs are dedicated to our community, but the hospital's actions will cause more nurses to leave and create more unsafe staffing," said Geraldine Leung, RN. "Chinese Hospital needs to do the right thing and negotiate a fair contract with us."
"Chinese Hospital RNs are very disappointed that the hospital has not taken more seriously the problem they have created with recruitment and retention. We have lost far too many experienced nurses due to their unwillingness to stay competitive with San Francisco-area RNs," said Alson Toy, RN.
Retention is especially critical given the large number of bilingual Chinese Hospital RNs for the preponderance of monolingual Chinese-speaking patients at the hospital and their families. "Losing many of our bilingual RNs would be a devastating blow to our patients and community," said Leung.
Among other concerns, RNs cite the hospital's refusal to provide bedside RNs with meal and break relief. The hospital has pressed to have nurse supervisors provide meal and break relief, regardless of their clinical expertise and daily experience at the bedside with the patients.
"For nurses, this means ensuring we have safe staffing at all times. That means having nurses with the experience and expertise to notice and respond to the subtle changes in condition of our extremely vulnerable patients, so that we are able to take the meal and rest breaks we need with the assurance our patients are receiving the care they need," said Yee.