Press Release
Children's Hospital Oakland Nurses to Picket Thursday, June 25, For Fair Contract to Support Quality Patient Care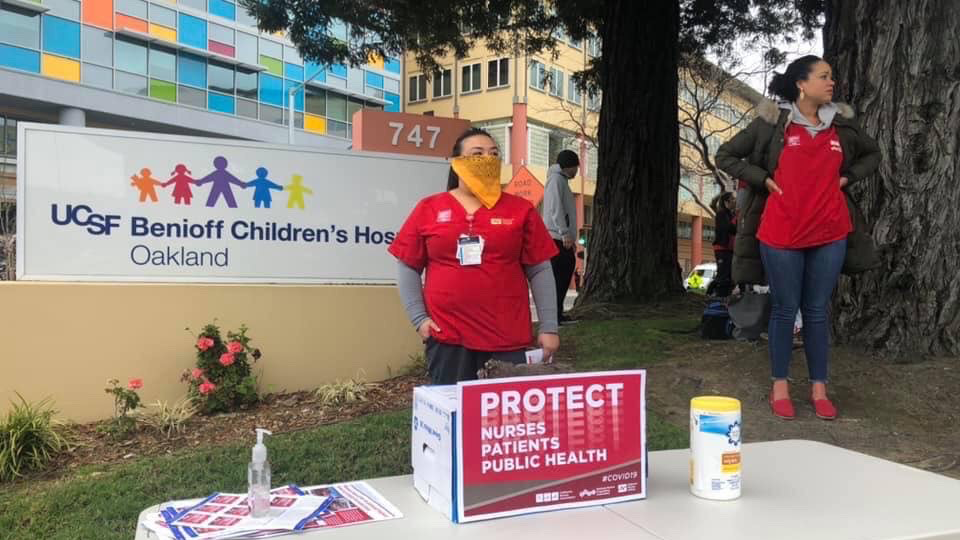 UCSF Benioff Children's Hospital - Oakland nurses will be holding an informational picket Thursday, June 25 regarding current contract negotiations to highlight con­cerns about patient safety, unsafe staffing, and overall poor working conditions at Children's Hospital Oakland, the California Nurses Association announced today.
"We serve the most vulnerable patients in our community, and our hospital has been the primary source of care for these patients," said Lisa Hale, NP. "We cannot stand by while the hospital fails to provide the patient care conditions that our community deserves—and also fails to address a working environment that causes experienced nurses to leave for surrounding facilities. We demand a health system that works for patients and nurses!"
"In a moment when the nation is speaking out about systemic racism, unequal treatment of nurses will have a disproportionate impact on Black and Latinx patients who comprise a large proportion of patients at Children's Hospital Oakland, aggravating existing racial disparities in health," said Carrie Krupitsky, NP.
What: Nurse Picket for Strong Contract to Support Quality Patient Care
Where: Children's Hospital Oakland, 747 52nd St. Oakland, CA
When: Thursday, June 25, 2020, 1:45 p.m. to 2:45 p.m.
Nurses at Children's Hospital Oakland are uniting to achieve a fair contract that ensures the hospital will recruit and retain the best staff for patients. Nurses know that community support is key in holding the hospital accountable for resolving these critical issues.
"As nurses it's our job to advocate for our patients, and we will always speak up for them," said Kathi Lampkin, a neonatal follow-up nurse clinician. "We invite the community to come out and stand with us on Thursday to insist that Children's Hospital Oakland negotiate a fair and equitable contract and meet the community standard. The only way to make that possible is to take action together!"