Press Release
Chicago nurses hold protest for patient safety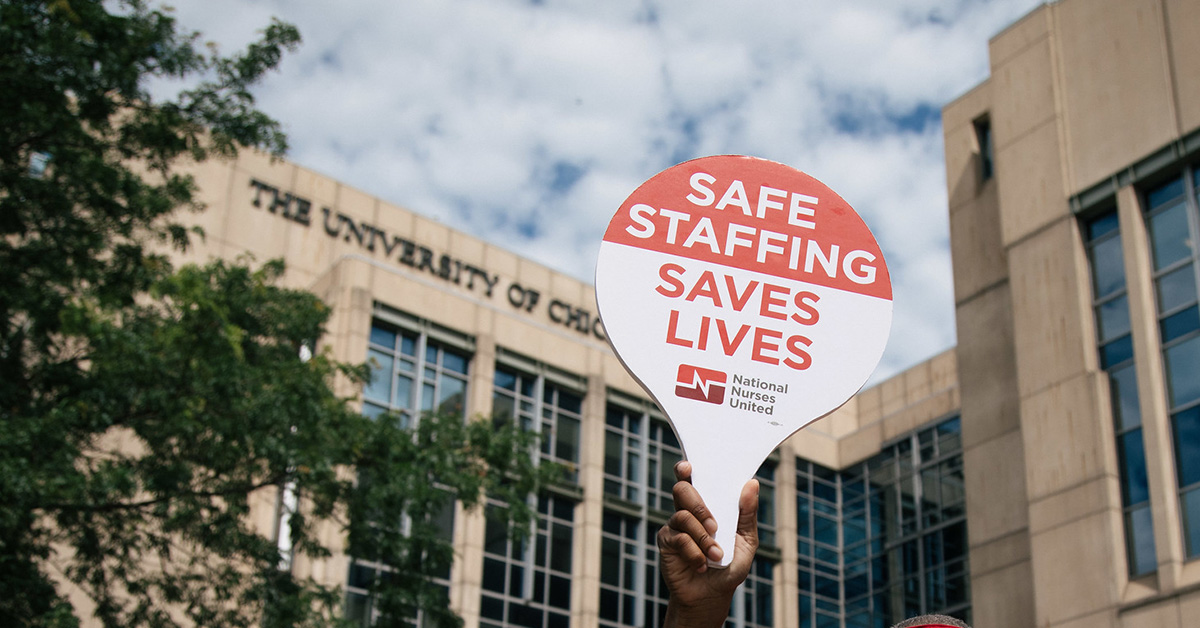 RNs at University of Chicago Medical Center call for safe staffing
Registered nurses at the University of Chicago Medical Center in Chicago, will hold an action on Thursday, Sept. 15, to highlight their patient safety concerns, announced National Nurses Organizing Committee/National Nurses United (NNOC/NNU) today. Short-staffing, RN and other staff vacancies, and lack of educational resources create unsafe patient care conditions.
More than 580 nurses have left the UChicago Medical Center since Sept. 13, 2021, including more than 350 since January 2022. Nurses say that the number of vacant nurse positions at UChicago has not fallen below 100 for more than a year and in some months, there were more than 200 vacancies. The high turnover rate has resulted in a significant number of newly hired nurses who are still under orientation and not yet working as staff nurses.
"When patients are in the hospital, we see them in crisis, in pain and needing help," said Lea Sargent King, a telemetry staff nurse and chair of the RN professional practice committee at UChicago. "When I have too many patients to care for safely this affects my ability to give my patients the care they deserve."
"Nurses have reported safety concerns more than 750 times in the past 12 weeks," said Pamela Valentine, a post-anesthesia care unit RN who tracks nurse safety objections at UChicago. "The nurses' safety objections report concerns like delays in care, late medication delivery, increases in fall risks, not readily available equipment or education, which all impact patient safety. We are calling on management to act urgently on this issue."
Who:

  RNs at the University of Chicago Medical Center

What:

Nurse action for patient safety

When:

Thursday, Sept. 15, 7:50 a.m.

Where:

Across the Street from the UChicago Medical Center at the NW corner of 57th St. and Cottage Grove
Nurses will be available to speak with media at the event.
Nurses say that because the UChicago Medical Center routinely understaffs shifts, when a nurse is out sick or cannot come in, it creates a crisis. Almost every day nurses are getting texts from managers saying they are "desperate" and begging them to come in on their day off.
Retaining experienced nurses is critical because they act as mentors to the next generation of nurses. Experienced nurses are an invaluable resource for new nurses. Due to the 345 newly graduated nurses, RNs have asked management to make experienced nurses available as a resource to new nurses. So far, management has not complied.
"We need consistent action by the hospital administration to address the staffing crisis," said King. "UChicago can and should solve these problems so that every unit is safely staffed on every shift, so the residents on Chicago's South Side get the services they deserve."
NNOC/NNU represents 2,700 registered nurses at the University of Chicago Medical Center.
National Nurses Organizing Committee is an affiliate of National Nurses United, the largest and fastest-growing union and professional association of registered nurses in the United States with more than 175,000 members nationwide.