Press Release
Central Florida RNs Vote by 68% to Join NNU, Second Orlando Area Hospital in a Week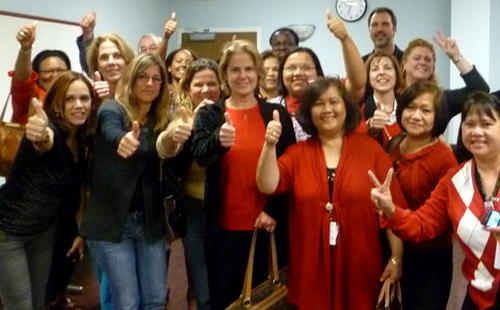 For Immediate Release
November 23, 2010
Registered nurses at Central Florida Regional Hospital in Sanford , Fla. voted by 68 percent Monday night to join National Nurses Organizing Committee-Florida, an affiliate of National Nurses United, the country's biggest union and professional association of registered nurses.
The secret ballot election, conducted by the National Labor Relations Board, was the second Orlando area hospital in a week where the RNs voted to affiliate with NNOC-Florida. Six days earlier, RNs at Osceola Regional Medical Center in Kissimmee, Fla .also voted to join NNOC-Florida.
The final count at Central Florida was 132 votes for NNU to 62 votes for no union, an overwhelming 68 percent margin.
"This is a historic time for Florida nurses and the patients they care for," said Karyn Hayduk, a medical-surgical oncology RN at Central Florida. "Now nurses will have a voice to give the best care possible for our patients."
NNOC-Florida will represent 300 RNs at Central Florida, which, like Osceola, is a part of HCA (Hospital Corporation of America), the nation's largest hospital system. 
RNs at several other HCA hospitals in Florida will also vote on possible affiliation with NNOC-Florida in the coming days and weeks. 
With Monday night's vote, over 6,800 RNs have voted for representation by NNU this year, many of them at HCA hospitals in Texas, Nevada, and Missouri along with Florida.
"We are looking forward to changing the face of healthcare in Florida and the nation with the growth of NNU, and HCA RNs will be at the heart of that effort," said Malinda Markowitz, RN, a national vice president of NNU and chair of NNU's HCA RN Council.
"Congratulations to the great nurses at Central Florida Regional Hospital for taking this stand for yourselves, your patients, and for all of us," Markowitz said.
National Nurses United is the nation's largest union and professional association of registered nurses with more than 155,000 members from coast to coast.