Press Release
Carondelet St. Mary's Hospital and St. Joseph's Hospital nurses in Tucson ratify new contract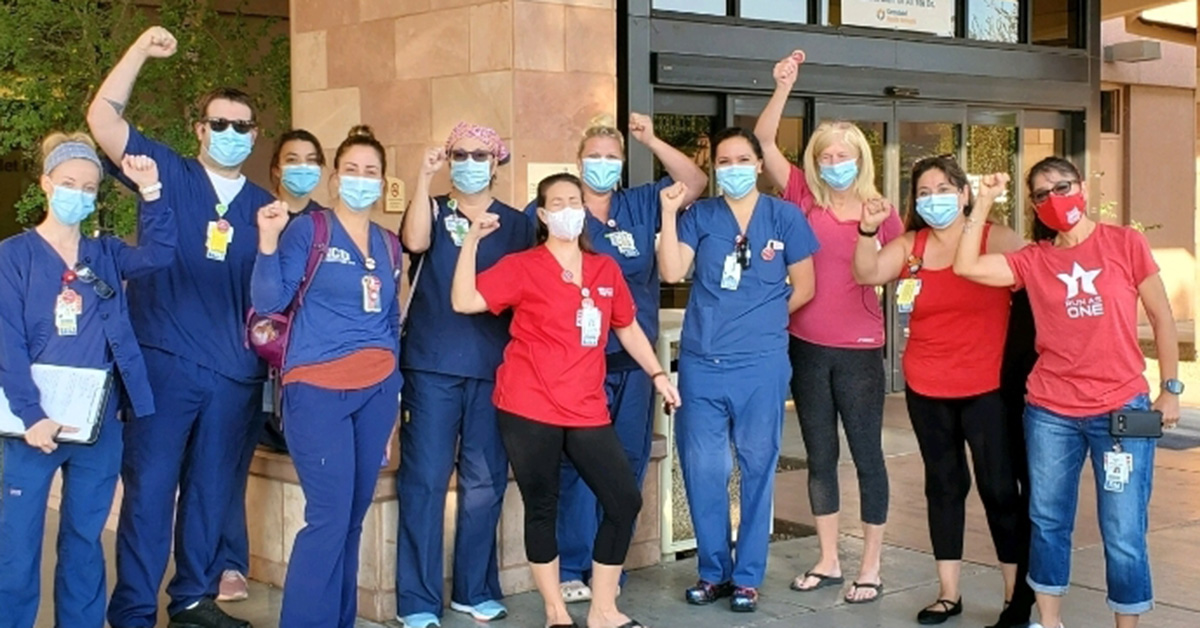 RNs at Carondelet St. Mary's Hospital and St. Joseph's Hospital ratified a new three-year contract with strong measures to improve patient safety and nurse retention
Registered nurses at Carondelet St. Mary's Hospital and St. Joseph's Hospital in Tucson, Arizona voted overwhelmingly in favor of ratifying a new three-year contract on Thursday, winning protections to improve patient safety and nurse retention announced National Nurses Organizing Committee/National Nurses United (NNOC/NNU).
"Nurses at St. Mary's and St. Joseph's are elated to have ratified the second registered nurse contract in the state of Arizona," said Dominique Hamilton, RN in the ICU at St. Mary's. "This contract will ensure nurses are able to safely and effectively care for our patients."
Highlights of the contract include:
Improved health and safety language that guarantees nurses optimal PPE (personal protective equipment), testing and contract tracing, and implementation of a lift team. 
Safe staffing, – including limitations on floating clusters and no cancellation of a nurse if a charge nurse has a patient assignment. Floating is a management practice where nurses are reassigned to units of the hospital where they do not normally work.
Wage increases between 7.75 percent to 37 percent during the life of the agreement, plus increase to night shift differential. 
Meal and rest break program that requires hospital to provide additional staffing to provide rest breaks for nurses.
No contract takeaways
The new pact covers the period of July 2023 to May 31, 2026.
"Recruitment and retention of nurses have been a huge issue for our hospitals," said Shannon King, RN in the couple care unit at St. Joseph's. "This contract will help us recruit and retain qualified nurses in the future."
NNOC represents nearly 600 nurses combined at Carondelet St. Mary's and St. Joseph's hospitals.
---
National Nurses Organizing Committee is an affiliate of National Nurses United, the largest and fastest-growing union and professional association of registered nurses in the United States with nearly 225,000 members nationwide. NNU affiliates also include California Nurses Association, DC Nurses Association, Michigan Nurses Association, Minnesota Nurses Association, and New York State Nurses Association.