Press Release
Calais Regional Hospital Employees, Community to Hold Vigil for Patient Safety Thurs. May 23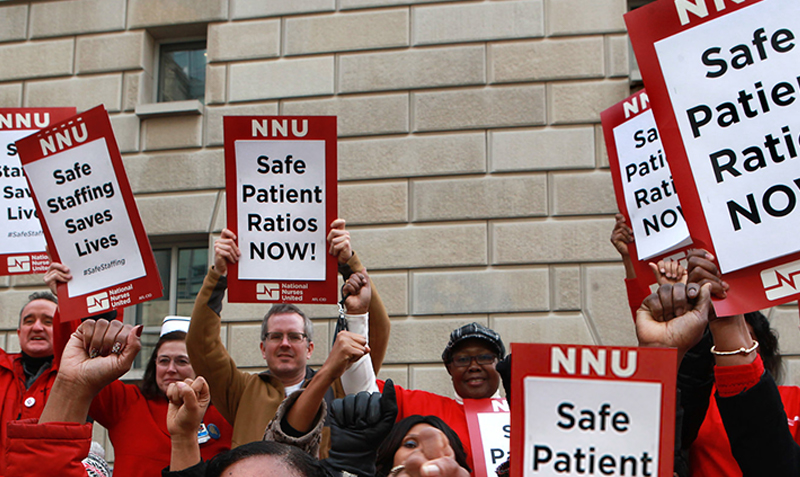 Calais Regional Hospital (CRH) employees will join community members for a "Vigil for Patient Safety" at Triangle Park in downtown Calais Thursday evening, May 23—to draw attention to patient care conditions and employee treatment at CRH, the Maine State Nurses Association announced today.
What: Vigil for Patient Safety
When: Thursday, May 23, 7:30 p.m.
Where: Triangle Park, downtown Calais, Maine
"We're standing up and demanding that CRH management invest in safe patient care, including safe staffing—and also treat its employees fairly. Right now, the poor working conditions are causing problems with recruitment of new employees and retention of longtime employees, to the detriment of patient care conditions. This community deserves better," said Hollye Lord, RN.  
CRH management decided to close the hospital's OB department in August of 2017, without any input from the surrounding community, leaving women and families in a 40-mile radius without adequate OB/GYN care. Employees taking part in the vigil say they hope community pressure will hold the hospital accountable for prioritizing safe patient care conditions and fair employee treatment, to the benefit of the community.
"We encourage our neighbors to stand with us on Thursday night as we make it clear that our patients and all of the hard-working CRH employees deserve a safe, just and fair hospital environment," said Maureen Hayward, RN.